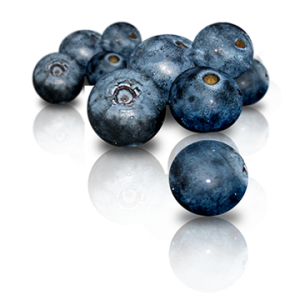 I love blueberry muffins. I have a love-hate relationship with MAKING blueberry muffins.  There are tricks and trials that every muffin baker goes through, and I combined what I've learned with an amazing whole grain recipe to hopefully help others get over the "hate" part of their love-hate-muffin relationship.
First the tips:
Frozen blueberries work better.  Fresh blueberries seem to not cook well, or turn to 100% mush - I will freeze my fresh blueberries slightly.  I think having them cold has some benefit with the baking time.  If you use frozen blueberries, your batter will be colder when you put it in the oven, so your baking time will have to be adjusted
Dust your blueberries with flour before you add them to your batter.  This will help them "stick" throughout the muffin and they wont all sink to the bottom
DO NOT OVER MIX your batter.  Once you start adding flour, a few spins of the mixer or turns of the spoon until the flour ALMOST but doesn't totally disappear, you'll stir more when you add your berries.  Fold in the berries gently with just 5 or 6 flips of your rubber scraper.
Don't skimp on the baking powder.  I sometimes add a dash extra if I think the batter might be a bit heavy (liquid to dry ratio)
You can use paper cups, but be sure to grease the TOP of your muffin pan, most muffins will overflow the cup, and while the paper allows for easy removal of MOST of the cupcake, the top will stick and tear if you don't hit it with a spray of Pam or a swipe of butter or shortening.
Now the Recipe - don't double this - it doesn't work very well.  These do freeze nicely though once baked and cooled.

Whole Wheat Blueberry Muffins
Recipe type:
Breakfast, Quick Bread
Prep time:
Cook time:
Total time: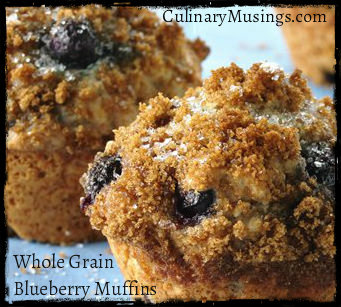 Ingredients
¾ C milk
¼ cup vegetable or canola oil (you can sub applesauce, they wont rise as high but they're tasty)
¼ cup local honey
1 egg, lightly beaten
1 cup plus 2 T all-purpose (AP) flour
1 cup whole wheat (WW) flour
3 teaspoons baking powder
½ teaspoon salt
1 cup frozen blueberries (do not thaw)
Topping
2 Tablespoons Brown Sugar
1 Teaspoon Cinnamon
⅛ Teaspoon Nutmeg
Instructions
Preheat your oven to 400 degrees. Make sure this is accurate - every baker needs an oven thermometer
Line or spray 12 regular muffin cups - be sure to spray the top, not just inside the cups
Stir together the topping in a small bowl and set aside
In your mixer, beat together the milk, oil (or applesauce), egg and honey until light - you cant overmix in this step
In a separate bowl, combine your 1 C WW Flour and 1 C. AP Flour, baking powder and salt
Add and fold the dry into the wet gently, barely stir this - the batter will be lumpy
Add the 2T of flour to the frozen blueberry bag and toss well to coat
Fold the blueberries in gently
Fill muffin cups to the top and sprinkle on a bit of topping
Bake 18-20 minutes - until a toothpick inserted in the center comes out clean.
Let cool just a minute or two and remove from muffin pan to cool on a wire rack.