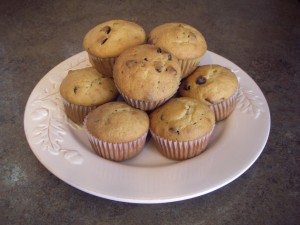 By: Alexine
Do you have some over-ripe bananas that you are about to throw away? Or kids that much down food the minute they walk into the door after school?
I have the perfect solution! Bake some delicious Monkey Bread Muffins. They are healthier than most sweet snacks and simply irresistible.
Keep reading to get the recipe with my special tips on how to make these yummy muffins!

You will need the following ingredients;
• 1 cup granulated sugar
• 2 ½ cups all purpose flour
• 2 teaspoons baking powder
• ½ teaspoon baking soda
• 1 teaspoon salt
• 4 brown medium bananas (about 1 ½ cups mashed)
• ¼ cup milk
• 2 teaspoons vanilla extract
• 2 large eggs
• ½ cup melted butter (1 stick)
• 1 cup semi-sweet chocolate chips
To get started preheat your oven to 350 degrees and take out three mixing bowls (small, medium and large). Also you will need; beaters, a whisk, a rubber bowl scraper, a fork, a small saucepan, measuring cups and spoons, a muffin tin, muffin papers and a cooling rack.
To begin the batter peel your very ripe bananas and put them in the small mixing bowl. Then add the milk and vanilla extract. Use your whisk straight up and down to mash the bananas and mix the ingredients together. This will create an even consistency. Set aside.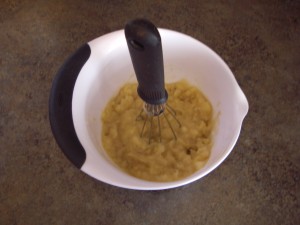 In the medium mixing bowl add the flour, salt, baking soda and baking powder. Mix these ingredients together thoroughly with a fork. Set aside.
Next put the stick of butter in your small saucepan on medium heat. Melt the butter thoroughly, making sure not to boil it or burn it. Then pour the butter into your large mixing bowl along with the sugar. Use your beaters and beat for about 3 minutes on high. Then add the eggs and beat for another 3 minutes on high.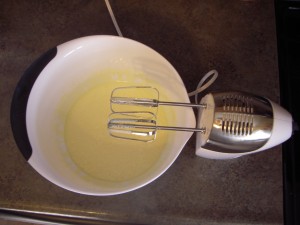 Now you are ready to combine all three of your bowls.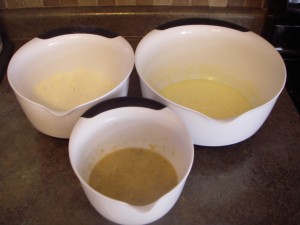 To begin add the contents of the small mixing bowl into your large mixing bowl. Beat all these wet ingredients together for about 3 minutes. Then add part of the dry ingredients and beat 2-3 minutes until it is all mixed. Continue doing this until all the dry ingredients are mixed in.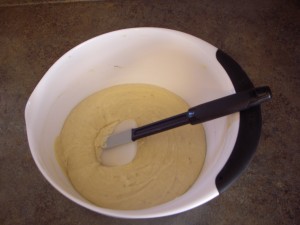 The final step for the batter is to add the cup of semi-sweet chocolate chips and mix it in well with the rubber bowl scraper.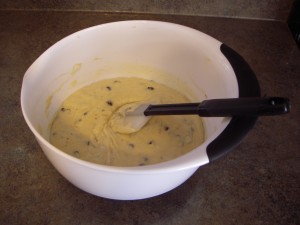 Then put your muffin papers in the muffin tin and use a 1/3 cup measuring cup to pour the batter into the muffin tin. Once the muffin tin is full, put it in the oven to bake for 30 minutes.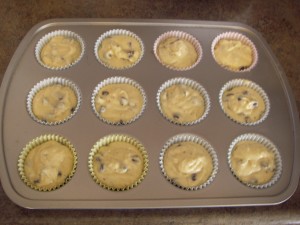 Carefully remove the muffins from the muffin tin 10 minutes after you take them out of the oven and put them on a cooling rack. Allow them to finish cooling for an additional 10 to 15 minutes. Then they are ready to eat! You should get 18 muffins from this recipe so double it or triple it if you need more.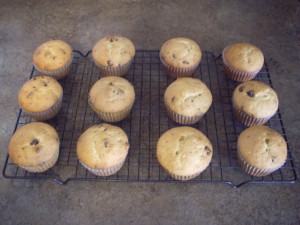 I hope you enjoy these muffins as much as my husband and I do! Good luck baking them!
If you like this recipe you might also try these recipes:

Mixed Berry Pie Recipe with a divine mixture of blueberries, blackberries and strawberries. You can't get much healthier than that.

Healthy Banana Nut Bread Recipe made with buttermilk, bananas, nuts and eggs. Very moist and freezes well so you can make it ahead of time.