As a fairly proficient cook and blogger, I've found that many kitchen enthusiasts have strong opinions when it comes to their gear.  Just like a rock climber likes a specific harness or shoe, a home cook likes a certain type of pot or knife.

In Dutch oven cooking, the desire is no different.  Depending upon what type of Dutch oven cooking you prefer, you might need a few different kinds of pots.  Today we'll talk about a few different kinds and the pros and cons of each.
The Purist and the Campfire
Dutch oven cooking originated as a chuck wagon style cooking designed to provide hot food to sheep and cattle herders at all hours of the day.  A pot of beans in a cast iron pot could cook all day and be kept warm with a fairly low fire or just embers – enabling the cowboys to come and go from camp as their duties allowed.  By hanging a cast iron pot from a tripod, or setting it right in the embers of the fire, the camp cook could bake bread or biscuits or make an antelope stew in the same vessel.
Today Dutch oven cooking is more for fun than survival.  There are many groups across the US dedicated to preserving the campfire Dutch oven cooking techniques of yesterday.  These purists swear by the cast iron Dutch oven with short legs and a tight fitting lid.  Something similar to that pictured below: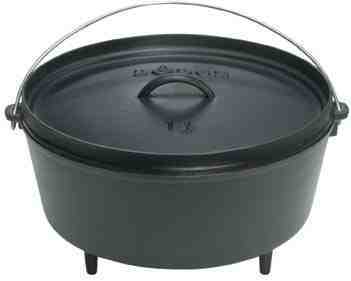 This design allows the camp chef to place coals of charcoal or wood on top of and around the bottom of the Dutch oven, creating a consistent heat that cooks the contents evenly.  These cast iron Dutch ovens do require special care.  Purists say to not wash these with soap and water, but I can't quite go that far.  Regular care does dictate that pot be heated and seasoned regularly.  Seasoning is what creates a durable and non-stick surface.  We'll cover techniques for seasoning your cast iron in another post.
Cast Iron Campfire Dutch Oven Prices range from $30 to $75, depending upon size and heft.
The Kitchen Gourmet
Some cooks would never dream of going camping, let alone cooking in a pot surrounded by burning coals.  Primitive is not in this home chef's vocabulary!  This doesn't mean that Dutch Oven recipes are off limits, any campfire Dutch oven recipe can be made inside, and vice versa.  For the home cook, the enamel coated Dutch oven is a popular choice.  The most popular is the Le Creuset, a spendy but enduring kitchen icon, pictured below.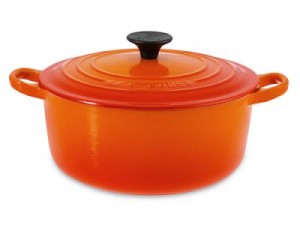 There really is no substitute for a really top quality enamel coated Dutch oven like a Le Creuset, Staub or Emile Henry.  There are a few imitators, but we've found that the enamel on these cannot hold up the high temps some Dutch oven recipes require.  Recently we heard a home cook tried out a new peasant bread recipe that is making the rounds of Pinterest in her Lodge Enamel Coated Cast Iron pot, what she didn't realize is that Lodge warns their pan should never be heated over 400 degrees.  The bread for this recipe bakes at 450, and her enamel coated Lodge cast iron pan proceeded to lose big flakes of its enamel coating from the heat damage.
While the Lodge Enamel Coated Cast Iron pot cannot handle some extremely high temperatures, there are other brands that can.  Le Creuset, Staub, Emile Henry, and Sur La Table can all handle high heat from 450 to 500 degrees.  Please read the manufacturer's recommendations for your own Dutch oven before you use it at extreme temperatures!  If they have wood or glass knobs on the lids, be careful.  Some people have talked about protecting the knob with a bit of foil, or replacing it with a stainless steel knob.
These enamel coated Cast Iron pans are more expensive than the full cast iron versions.  You can expect to spend between $50 and $300 for a good one.  Our favorites are the Emile Henry 5qt or the Le Creuset – these run between $200 and $300
Technically, no – but they work.
While the solid definition of a Dutch Oven seems to be a pot with the ability to go from direct flame to indirect heat (stovetop to oven or direct fire to coals) Those of us without pre-definitions use the terms bit more loosely.  Any heavy bottomed stock pot can be used to make a Dutch oven recipe as long as it has a tight fitting lid.  I have made the peasant bread in my Pampered Chef deep baker, which cannot be put over direct flame, but can be heated, to very high temps in the oven.  I would probably even be persuaded to make gumbo or stew in my pampered chef baker simply by placing everything in the oven and skipping any stove top steps, or possibly performing stove-top steps in a skillet and combining the results in my stoneware baker.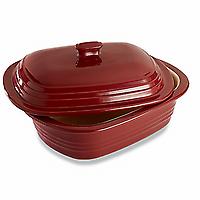 A good ceramic baker, such as my Pampered Chef, will run between $50 and $100, largely depending upon the sale you run across when you acquire yours.
Whatever version of Dutch Oven you choose to embrace be sure that you're going to find some amazing Dutch Oven recipes here, and on other sites.  It's a great way to provide a one pot meal for your family with minimal cleanup and amazing flavor.  Let us know below what types of Dutch Oven you prefer in the comments below, we're always looking for recommendations!