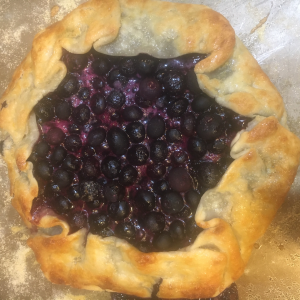 A gallete is a panless fruit pie, usually thrown together casually and quickly. Using commercial pie dough allows this dessert to come together even more quickly. I recommend letting it cool to room temperature before cutting so that the filling can gel properly (though this is tough to do). Perfect served along side a scoop of French vanilla ice cream.

Blueberry Rustica Gallete
Prep time:
Cook time:
Total time:
Ingredients
1 tsp cornmeal
1 commercial pie crust
⅓ cup sugar
2 T corn starch
Zest of one lemon
2 cups fresh or frozen blueberries (I used frozen)
Juice of ½ a lemon (it can be the same lemon)
1 T butter, cut into a half-dozen pieces
1 egg, scrambled with 1 T water
1 tsp granulated sugar (the larger crystals of turbinado sugar is nice, but plain white sugar works)
Instructions
Preheat oven to 400 degrees.
Sprinkle cornmeal out on a baking sheet. Unroll crust and lay out on top of cornmeal in the center of the baking sheet.
Combine sugar, corn starch, and lemon zest in a large bowl. Stir to combine. Add blueberries and lemon juice and stir to coat berries evenly.
Pour out berry mixture onto center of pie crust. Fold up edges and pinch to secure. Tease runaway berries into center of crust as you work. Leave center open.
Place small pieces of butter over the fruit.
Scramble egg with 1 T of water in a cup. Brush onto crust. Sprinkle crust with 1 tsp sugar.
Bake @400 for about 30 minutes, or until crust is well browned and fruit is bubbly. Let cool before serving.