Low fat, inexpensive, and delicious!
It's October, and we're starting to feel the crisp bite of fall. Unfortunately, many of us are also feeling a painful bite in our wallets as prices rise. The US Department of Agriculture reported in August that food prices this year will show the biggest annual increase since 1990. And there's no end in sight.
Struggling to get your food budget under control? Remember the humble pot of soup. It's a wonderful cold weather meal that's easy to make, and relatively inexpensive if you start with basic raw ingredients like dried beans.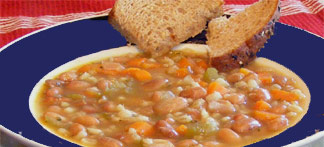 Here's one of my favorites: Pinto Bean and Barley Soup. It's a chewy blend of common kitchen staples that freezes well. Add a salad and warm bread and you have a delicious - yet inexpensive - meal.

Nutritious and Delicious!
This soup is as nutritious as it is delicious. One cup of cooked pinto beans provides 25% of your daily iron requirement and 58% of daily fiber needs. They're a good source of soluble fiber, which helps lower cholesterol and control diabetes. More on the nutritional and health benefits of pinto beans.
A cup of cooked barley provides another 54% of daily fiber requirements as well as minerals like selenium and copper. When buying barley, note the difference between hulled and pearl barley. The hulled contains the most nutrients and adds a better, chewy texture to soups and salads. Pearl barley has had much of the outer hull removed. It cooks more quickly, but has lost a lot of its nutritional benefits. More on the nutritional and health benefits of barley.
Guide to Soaking Beans
Soaking dried beans isn't hard; it just takes time.
The two most common methods of preparing dry beans is the overnight soak or the "quick soak."
Overnight soak: Rinse dry pintos and place in a pot. Add enough water to cover pintos 3-4 inches. Cover and let beans set overnight. Pour out the soaking water and rinse beans in a colander. They're ready to cook!
Quick soak: Rinse dry pintos and place in a pot. Add enough water to cover pintos 3-4 inches. Cover and bring beans to a boil for one minute only. Set aside for 1-2 hours. Pour out the soaking water and rinse beans in a colander. They're ready to cook!
The quick soak sounds so much easier and quicker, that you might wonder why anyone uses the overnight method. I find that the beans have a much more uniform texture if you use the slower method.
It's not a big deal for soup beans or refried beans, but if you're going to use the beans in a salad or other recipe where the texture and appearance is important, the slower soaking method seems to yield better results.
Just don't let the beans sit around long after soaking. They'll start to sprout. Really.
Pinto Bean and Barley Soup
This recipe makes dinner for 4, with leftovers for lunch the next day. Note that the barley tends to act like pasta and continues to soak up liquid while the soup is refrigerated. You may have to add a bit of water to the soup the next day before you reheat it.
Pinto Bean and Barley Soup
Prep time:
Cook time:
Total time:
Ingredients
1 cup dry pinto beans
1 tablespoon olive oil
2 cups chopped onion
1 cup chopped celery
1 cup chopped carrot
2 bay leaves
1 tablespoon dried marjoram
1 pod black cardamom, cut in half
4 cups vegetable broth (substitute chicken broth if desired)
5 cups water
½ cup uncooked hulled barley (substitute pearl barley or brown rice, if desired)
½ cup fresh parsley, finely minced
salt and pepper to taste
Bottled hot sauce (Optional: let guests add it to their soup if they find the soup too bland.)
Instructions
Soak one cup dry pinto beans using the overnight or quick soak method. Drain and rinse the beans.
Heat olive oil in a pressure cooker or heavy-bottomed pot on medium heat. Add onion and cook until soft (about 3 minutes), stirring frequently.
Add carrots and celery to onions. Cook 2-3 minutes more, stirring frequently.
Add bay leaves, marjoram, cardamom, water, and vegetable broth.
If using a pressure cooker, cover and bring soup up to pressure. Cook approximately 8 minutes on medium to medium-low heat. Turn off the heat and let sit until the pressure is gone.
If using a soup pot, bring mixture to a boil, reduce heat and simmer about 90 minutes until the beans are barely tender not mushy.
Add barley to soup and simmer 30 minutes until barley is tender.
Add salt, pepper, and fresh parsley. Bring soup to a boil for about 2 minutes.
Serve with a green salad and whole grain bread. Some people may like to add a splash of hot sauce to their soup before eating.
Note: the first time I made this recipe, I used brown rice because I didn't have any barley. The taste and everything was really good. But use barley if you have it. It has more nutrition and provides a delightfully, chewy texture to the soup.
Also, you may be a little worried after you pour in 9 cups of liquid, but don't be. As the soup cooks, some of the liquid evaporates, and the barley will soak up a lot of liquid. You're more likely to have to add an extra cup of water than have a soup that's too thin.
This soup freezes well, and it's a snap to make a double recipe. Also, like most soups, it's even better the second day. I often make it one day, intending to serve it for supper the next evening.