What are the key relevance factors for grading honey?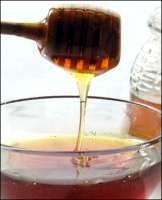 Honey is nature's perfect food: it is the only food that humans eat that harms neither plant nor animal in its production and consumption.
Honey is derived from plant nectar, with each individual honeybee contributing perhaps only 1/12 of a teaspoon to the hive's honey production during her entire lifetime. Because there are so many different nectar sources being visited by a single hive of bees, even a single pound of produced honey will contain nectar from thousands and thousands of different flowers. In order to standardize the sale of honey, the USDA developed a set of standards for grading honey. As of 1985, these Standards are now in their fifth issue. According to the National Honey Board, honey is graded, on a voluntary basis, using these USDA standards.
There are 6 relevant factors in evaluating the honey's grade (5 quality factors and color):

Key Relevance Factors for Grading Honey
- Total Soluble Solids
- Water Content
- Flavor and Aroma
- Clarity
- Absence of DefectsAnd
- Color
The Analytical Factors
These factors may be determined directly through the use of laboratory tests.
| | | |
| --- | --- | --- |
| Grade | Minimum Total Solids (%) | Maximum Water Content(%) |
| Grade A | 81.4 | 18.6 |
| Grade B | 81.4 | 18.6 |
| Grade C | 80.0 | 20.0 |
The remaining key relevance factors are assigned subjective points which contribute to the overall score:
| | |
| --- | --- |
| Factors | Points |
| Flavor and aroma | 50 |
| Absence of defects | 40 |
| Clarity | 10 |
| Total Score | 100 |
Flavor and Aroma

- Good Flavor and aroma for the predominant floral source
- Reasonably good flavor and aroma for the predominant floral source
- Fairly good flavor and aroma for the predominant floral source

Absense of Defects

- Practically Free
- Reasonably Free
- Fairly Free

Clarity (used only for strained honey, not for filtered)

- Clear
- Reasonably Clear
- Fairly Clear
Each Grade has a range of score points for each Grade. For example, for Flavor and Aroma, the following points are assigned for each grade range:
| | | |
| --- | --- | --- |
| Grade | Flavor and Aroma Description | Score Points |
| Grade A | Good - free from caramelization, smoke, fermentation, chemicals, and other causes | 46-50 |
| Grade B | Reasonably good - practically free from caramelization, free from smoke, fermentation, chemicals, and other causes | 40-44 |
| Grade C | Fairly good – reasonably free from caramelization, free from smoke, fermentation, chemicals, and other causes | 35-39 |
| Substandard | Poor – Fails Grade C | 0-34 |
Similar tests are applied to the other key relevance factors. In determining the overall score, there is another "gotcha": in order to qualify for a given overall Grade, the honey must make a qualifying score for that Grade in BOTH the Absence of Defects, and Flavor and Aroma Factors. In addition the Clarity Factor must exceed the scores needed for Grade C in order to rate a Grade B or A overall score. In other words, making a B in the Clarity Factor points can still allow the honey to be graded A overall assuming it has the points), but the B and C point ranges for the other tests will limit a honey sample to that overall Grade.
In addition to the point limits discussed, the overall points needed are:
| | |
| --- | --- |
| Grade | Points Needed |
| Grade A | 90+ |
| Grade B | 80+ |
| Grade C | 70+ |
| Substandard | < 70 |
What About Color?
Color is not considered a Quality Factor, but is used in the designation of honey and uses the following scale:
- Water White
- Extra White
- White
- Extra Light Amber
- Light Amber
- Amber
- Dark Amber
Because the components of the source nectar may color a batch of honey a given batch of wildflower honey may have the designation "Grade A Light Amber". Honey from a white clover source might be "Grade A Water White."
The Secret of Honey Selection
Picking a light colored honey is not a guarantee of getting a great tasting honey. Most beekeepers know that the best honey is strained, not filtered, and that honey from wildflowers, sourwood, citrus, and other varietals may have more flavor and taste than honey that has been filtered for maximum shelf life without granulation and that comes from a clover source that is sweet and clear, but tasteless and lacking character.
Seek out a small local honey producer, select honey that has been minimally processed (or give comb honey a try for a special treat), and enjoy some varietal honeys that you might not otherwise select – you may find that honey is a sweet treat that you want to make more a part of your eating lifestyle.