Aunt Helen's Easy Sweet Cornbread Recipe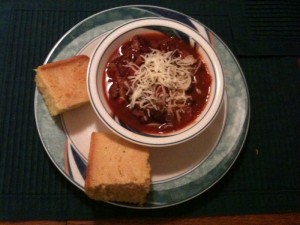 Cooler weather meals like chili demand homemade cornbread.
My Aunt Helen introduced me to a super simple cornbread recipe that makes some of the tastiest cornbread around.
A side benefit of making homemade cornbread is that it costs less than a third of the price of the packages you buy in the store.
Aunt Helen's Easy Sweet Cornbread Recipe
Prep time:
Cook time:
Total time:
Ingredients
½ cup butter
⅓ cup white sugar
2 eggs
1 cup buttermilk
½ teaspoon baking soda
1-1/4 cup cornmeal
1 cup all-purpose flour
½ teaspoon salt
Instructions
Preheat oven to 375 degrees F. Grease an 8"x8" inch square pan or 10" cast iron skillet with PAM. Place pan into oven to preheat.
Melt the butter in large microwave safe bowl. Remove.
Stir in the sugar and then quickly add the eggs and beat until well blended. The eggs will cook slightly, but that's OK.
Add the baking soda to the buttermilk and stir into butter and egg mixture.
Add remaining ingredients and still until well blended and few lumps remain.
Pour batter into the prepared, hot pan.
Bake in the preheated oven for 30 to 40 minutes, or until a toothpick inserted in the center comes out clean.
Enjoy your easy and sweet cornbread with homemade chili, soup, or other cold weather favorite.
Notes
If you're like me, you don't normally have buttermilk handy. Something I've learned is to keep a can of powdered buttermilk in the refrigerator so you can easily whip up a quick cup of buttermilk for cooking. If you use it, mix the powdered buttermilk and other dry ingredients together, add the water for the buttermilk to the egg mixture, then add the dry ingredients to the egg mixture and stir til combined. Cook as usual. Variations: Just stir in a can of sweet yellow corn or a small can of chopped mild green chiles after the other ingredients are mixed for a colorful variation.