Holiday Eggnog Recipe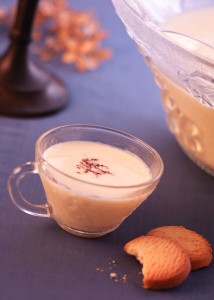 Whether it is served with a sprinkle of nutmeg on top or mixed with a little liquor eggnog is a wonderful holiday treat. Making your own homemade eggnog is an even better treat than the store bought eggnog. Not only can you make it with organic ingredients if you choose but the fresh taste is out of this world. Read on to learn how to make this delicious treat for your friends and family this holiday season.
How to Make Eggnog
Ingredients You Need
• 1 Gallon of Whole Milk
• 2 Dozen Eggs (24 Eggs)
• 3 Cups of Sugar
• 1 Teaspoon Salt
• 4 Tablespoons of Pure Vanilla Extract
• 2 Teaspoons Ground Nutmeg
• 1 Bag of Ice

Supplies You Need
• 8 Quart or Larger Stockpot
• Large Whisk
• Measuring Cups
• Measuring Spoons
• Cooking Thermometer
• Large Heat Proof Glass Punch Bowl
• Ladle for Punch Bowl
Making the Eggnog
• Start by cracking all the eggs into your stockpot making sure not to leave any eggshell pieces behind. Then add the sugar and salt to the eggs and mix well using the whisk.
• Slowly add ½ gallon of the milk into the pot until all the eggs are mixed in and then turn your burner on low.
• Cook the eggnog thoroughly until the temperature is 160 to 170 degrees Fahrenheit. Make sure to stir with the whisk consistently to prevent any burning or clumping.
• Once the eggnog is up to temperature remove it from the heat and pour it into your heat proof glass punch bowl. Slowly add the other ½ gallon of cold milk, vanilla and nutmeg then stir well.
• Fill your sink with about six inches of cold water and dump the bag of ice into the sink. Place the punch bowl of eggnog into the ice-water bath. Stir the eggnog constantly until it cools down completely.
• Cover the bowl with plastic wrap or a cover and place it into the refrigerator for 3 or more hours. Then when you are ready to serve the eggnog whisk it really well and then sprinkle nutmeg on top for decoration.
Enjoy!