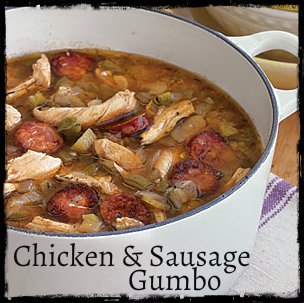 Our second recipe this week in honor of Fat Tuesday is Chicken & Sausage Gumbo.  Gumbo is a staple in Creole and Cajun households, it was originally a way to use tougher and less, shall we say, mainstream, cuts of meat to create a filling and hearty meal.  Served alone, or with rice, this is a warming and filling end to any day.  This recipe serves enough for a large crowd, great for a family reunion weekend or game day at home.  Couple this with yesterday's recipe for Shrimp Etouffee and it's almost like you're living in Louisianna!
Traditional Gumbo has okra in it.  I have never cooked okra and the one time I had it it was slimy.  Sorry, I'm just not a fan.  If you want to add frozen Okra to your gumbo, do so when you add the tomatoes, about 1-2 Cups of sliced frozen Okra should do it.

Chicken & Sausage Gumbo Recipe
Prep time:
Cook time:
Total time:
Ingredients
4 Tbsp vegetable oil
3 Tbsp flour
2 cloves garlic, minced fine
2 medium onions, chopped
2 medium bell peppers, chopped
3 tomatoes, seeded & diced
2 stalks of celery, chopped
2 lb. boneless chicken breasts and/or thighs, cut into bite size pieces
1 lb Andoullie Sausage, sliced into medallions
Salt & pepper to taste
Instructions
Prep veggies and protein as indicated above
Preheat dutch oven to 325 degrees – about 2-3 minutes on medium-high heat
Toss in your andoullie and let render for a few minutes until there's some oil in your pan, then add in chicken and stir. Cook until chicken is almost done. Remove chicken and sausage from the pan and set aside.
To your same dutch oven, add oil and flour and cook together stirring often until your roux is brown. Maybe a bit darker than Peanut Butter.
Add garlic, onion, and peppers to your roux and cook together until onions are soft, about 5 minutes
Slowly stir in 1 quart of water with a whisk, then whisk rapidly to eliminate lumps
Add salt and pepper, tomatoes (okra, if you like) and celery then cover and cook 30 minutes or until vegetables are done.
Reduce heat to medium low.
Add chicken and sausage back in and simmer an additional 15 minutes or until chicken is completely done.
As with all Dutch Oven recipes, these can be done on the stove top or next to your camp fire.  Remember to prep your ingredients before you leave home and keep your meat and poultry at a safe temperature until you're ready to cook it.  Enjoy!