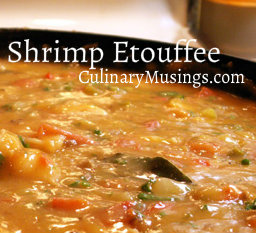 In honor of Mardis Gras – we came up with a few Dutch Oven recipes sure to please the Experienced and Novice Cajun food aficionados.  Today is Shrimp Etoufee - tomorrow we'll post a recipe for Chicken & Sausage Gumbo
While etouffee is a bit fancy for the campfire, it can be done either stovetop or fireside.  It makes quite a bit, and you will have neighboring campers coming for miles with it's rich and hearty aroma.  If you're making this wilderness-style, remember to prep your veggies and seafood before you leave for camp, and keep the shrimp cold until you're ready to cook them.  I generally do this by putting them in the cooler frozen and right next to a block of ice.  Sometimes I need to thaw them a little before I even add them to my pot, they've stayed so cold!
Shrimp Etouffee Recipe
Prep time:
Cook time:
Total time:
Ingredients
6 tablespoons butter or margarine
½ cup all-purpose flour
2 C. onions, chopped
1½ C green bell peppers, chopped
2 C celery, chopped
3 cloves garlic, minced
1 (14.5-ounce) can diced tomatoes
2 bay leaves
2 teaspoons salt
½ teaspoon cayenne pepper
2 tablespoons creole seasoning, I use Tony Chachere
4 C Water
1½ pounds shrimp (U25 if you can – or 3 lbs of the small uncooked shrimp), cleaned
Steamed white rice, for serving
Instructions
Melt butter in your Dutch oven over medium heat. Add the flour and stir continuously to make a roux. Stir the roux constantly over medium heat until the color of peanut butter, about 10 minutes. Don't stop stirring or it will burn. If you burn the roux, you need to start over
Add the chopped onions, bell peppers, celery, and garlic to the roux, and cook, stirring often, for 10 minutes until the onions are cooked down.
Add the tomatoes to the pot and season with the bay leaves, salt, cayenne, and 1 tablespoon of the Cajun Seasoning.
Cook the tomatoes for 2 to 3 minutes and then whisk in the water. Whisk vigorously so the roux doesn't clump.
Bring the mixture to a boil, and reduce to a simmer.
Simmer your etouffee, stirring occasionally, for about 45 minutes. Season the shrimp with the remaining tablespoon of Cajun seasoning and add them to the pot, stirring gently to distribute.
Cook the shrimp for 5 to 7 minutes, or until they are cooked through.
Serve immediately over steamed white rice.