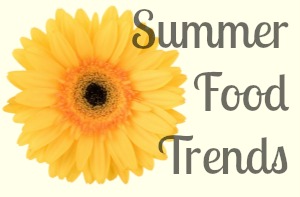 Warm summer days are just around the corner, and you can almost smell the delicious aromas of grilling burgers, fresh fruits and vegetables, and lemony iced tea. Knowing what's new on the culinary scene can help you plan a terrific meal at home or prepare a gourmet feast sure to satisfy a hungry crowd at your restaurant, resort or spa. Here are some ideas to get your taste buds tuned to the new summer food trends.
Experiment With Your Grilling Style
Most of us are familiar with the standard gas grill, but more and more restaurants (and at-home grillers!) are trying their hand at "smoking" poultry and meat. This slow-cook method imparts a natural smoky flavor and keeps food tender. Using different wood chips is a great method for adding flavor. Try apple wood for a sweet, mild effect with ham or pork, oak for lamb or beef, or alder for fish and poultry. The ever-popular mesquite works for most meats. Of course, there are no hard and fast rules; try different combinations to create your own custom taste! Keep in mind that vegetables are tasty off the grill too- try marinating and grilling a portabello mushroom like a burger, or roasting fresh corn in its husk.
International Flavors Add Flair
More than ever, Americans are traveling the world, sampling exciting new flavors from countries around the globe. Many return from vacations with a desire to integrate some of these wonderful finds into familiar dishes. Restaurants seek to replicate this "exotic dining experience" by adding a bit of faraway flavor to their usual summertime fare.
Add jerk to basic chicken, and suddenly your guests are dining Caribbean-style. Spice up a plain salad with some jalapenos and a fresh lime-honey dressing, a la Mexico. Or toss some plain sea scallops with mushrooms, oyster sauce, and pea pods for Polynesian fare.
Beverages With Pizzazz
Never underestimate the "punch" of a great drink! With a few simple ingredients, you can easily concoct a refreshing pleaser. Ideas to try:
grenadine with seltzer for a grown-up Shirley Temple
smoothies blended from yogurt and fresh fruit
lemonade with unexpected additions like honeydew and kiwi
yummy iced coffee drinks with chocolate syrup or Baileys
If you're the owner or head chef at a popular restaurant, consider expanding the menu this summer to include tantalizing new choices from far-flung destinations. Think of it as offering your guests an escape to new and exotic lands... right in the comfort and friendly ambiance of their favorite local eatery.