Purslane: Recipes and Information with the Wonder Plant
Condemned by some as an unsightly, pervasive weed," purslane is also a free backyard source of protein, vitamin E, vitamin C, and the best source of Omega 3 fatty acids of any leafy plant.
There's no reason to spend money on fish oil supplements if you have this tasty food source growing in your backyard or vegetable garden. In this article we provide a little background on this healthful plant, plus some easy to make purslane recipes.
Whether you eat it raw in salads, stir-fried, or added to soups and sauces, purslane is a delicious addition to many recipes. It's easy to grow, tastes great, and - best of all to anyone struggling with rising food prices - it's free.
Purslane used to be cultivated as a food crop in the United States, and is still a major food drop in many countries, including India. Its popularity has increased recently, with articles in the Washington Post and other publications highlighting the nutritional benefits and taste of this hardy little weed:
The plant is rich in vitamin E, vitamin C and beta carotene, and quite high in protein. Most noteworthy of all, it is considered a better source of essential omega-3 fatty acids than any other leafy plant. These are compounds the body cannot make itself, which are needed to complement the omega-6 fatty acids we get from grains and grain-fed meat. Wild-caught salmon and freshly hulled walnuts also deliver this prize, but for a steady supply what could be handier than a plant that leaps into your own personal food system with the ardor of an overactive puppy?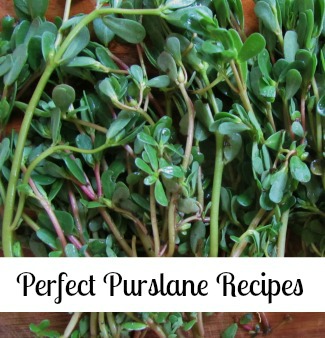 How to harvest Purslane
Harvesting purslane is easy; it grows just about anywhere that gets two frost-free months per year and loves to spread around cultivated fields, back yards, and any place that has fertile, moist soil. Even so, purslane is drought-tolerant and readily reseeds from one year to the next.
Take care when picking wild purslane though. Be sure the field hasn't been sprayed with pesticides or other dangerous chemicals. Avoid picking directly next to roads because car exhaust can contaminate plants with chemicals and heavy metals.
Also make sure you're actually picking purslane and not its evil twin: spurge. Purslane is a healthy food, but spurge will make you sick. Note the difference in these pictures. The purslane stems are thicker and succulent, as are the leaves. But spurge stems and leaves are much thinner, and when the stems are broken, leak a milky sap that irritates the skin. The white sap means the plant is spurge, so feel free to pull it up to make room for more purslane.
Here's a photo of spurge and another of the milky sap from a broken spurge stem:

Purslane Recipes
The easiest way to add purslane to your diet is to toss a few, washed leaves into your salad or stir fry. The crunchy, zesty flavor has a slight lemony, peppery kind of flavor.
Purslane Cucmber Salad
This recipe includes two of the earliest garden vegetables and herbs:
Ingredients
Ingredients:
1 cup cucumber, halved lengthwise and sliced.
⅔ cup halved cherry tomatoes
½ cup purslane leaves
2 teaspoons toasted sesame seeds
2-3 Tablespoons rice vinegar (start with 2 tablespoons, and add more if needed)
1-2 teaspoons sugar
Instructions
Mix all ingredients together in a bowl, cover, and chill in the refrigerator until ready to serve.
Purslane Potato Salad with Curry
Since purslane is such a popular food in India, it just makes sense to spice up your purslane potato salad with a bit of curry. Mix the salad while the potatoes are still warm (not hot!) and they'll soak up more of the flavors of the salad.
Prep Time: 10 minutes
Cook Time: 30 minutes
Yield: 4
Ingredients:
3 cups potatoes, cut into 1 inch chunks, and boiled just until tender.

3 stalks celery, minced

1-2 green onions and stems, diced

½ cup sliced bell pepper

2/3 cup raw purslane leaves

½ to 2/3 cup mayonnaise

1 tablespoon red wine vinegar

1 teaspoon curry powder

salt and pepper to taste
Instructions:
While potatoes are still warm, add remaining ingredients and stir well to coat vegetables. Cover, and chill in the refrigerator until ready to serve.