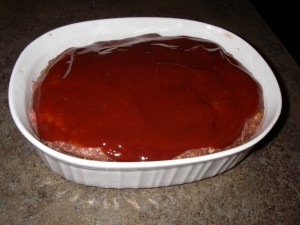 If you are looking for an easy and delicious meal for the family, meatloaf is the perfect choice. With only seven ingredients and fifteen minutes of preparation time there is no reason to pick up fast food. Home cooked meals are great at bringing the family together or the opportunity to have a couple of close friends over. Quality time together is that much better with a delicious meal to share! 
Preparation starts with preheating the oven to 350 degrees and getting the ingredients together. Remember to also take out a large bread loaf pan or 1 ½ quart casserole dish for locking in the moisture while cooking the meatloaf.

Easy Meatloaf Recipe for Quick Dinner
This meatloaf comes out very moist and tastes great as is or with a little extra ketchup on the side. You can also put a little salt and pepper on it once sliced and served if you would like.
Ingredients
The ingredients you need are the following:
2 pounds of ground beef or turkey
½ cup ketchup
½ cup brown sugar
1 packet of onion soup mix
2 medium eggs
1 tablespoon of Worcestershire sauce
½ cup Italian seasoned bread crumbs
Instructions
To efficiently make the meatloaf use a large mixing bowl, small mixing bowl, large mixing spoon and measuring cup.
In the large bowl mix together the ground beef or turkey, onion soup mix, eggs, Worcestershire sauce and Italian seasoned bread crumbs. If you want to ensure everything is mixed well fast, use your hands to squish all the ingredients together.
**For an extra bonus you can add a cup of chopped mushrooms, peppers or a combination of both. This is also an easy alternative if you don't have time to make a vegetable side.
Once your meat and ingredients are all mixed together squish it all into the bread loaf pan.
Then in the small mixing bowl mix together the ketchup and brown sugar and pour this sauce on top of the meatloaf.
Finally, put the meatloaf in the oven and bake for approximately 50 minutes, or until cooked thoroughly.
Two side dishes that I love to make with the meatloaf are garlic mashed potatoes and steamed fresh broccoli. They are relatively quick sides and create a large meal out of the meatloaf.
For the garlic mashed potatoes just cut them into small pieces and boil. Once a fork goes through easily, drain the water and add some butter, milk, garlic salt or powder and pepper.
This meal comes together quickly and makes dinner a little less work on those nights where time is limited. It is so important to have meals with loved ones, so I hope you can use this recipe to make a delicious meal for them.