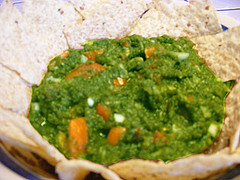 On a trip to Austin, TX this summer, we enjoyed a terrific lunch at a local contemporary Mexican restaurant that also sports the label of "one of the ten best tequila bars in the country."
Nobody in our party tested that last part. It was lunch, after all. But we did savor the restaurant's other specialty: fresh guacamole mixed table-side and served with tortilla chips. It's quite a production. The waiter brings a beautifully appointed tray filled with fresh avocados, oranges, chopped jalapenos, onions, and other goodies. As we watched, he concocted the absolute best guacamole we'd ever had. The menu's claim that "it doesn't get fresher than this!" was right.
Naturally, this is something I craved after we arrived home. Our homemade Mexican food just wasn't the same without it, and that store-bought stuff? Yuck. It was a pale imitation of the Austin restaurant guacamole. Since we aren't moving to Austin anytime soon, the only solution was to create our own recipe.
After a month or so of test guacamoles, my husband successfully developed a similar recipe that matches the texture, taste, and freshness of the restaurant's delicious dip.
When we served it at a recent cookout, it was gone within minutes. A few guests joked about licking the bowl clean, but they restrained themselves somewhat, and used their fingers instead.
As many cookbooks note, it's hard to write a specific guacamole recipe because fresh ingredients vary so much in taste. It's perfectly acceptable to add more orange juice if you want a more citrusy taste or leave the jalapenos out entirely if you're sensitive to hot foods.
How to Choose an Avocado
The one essential for great guacamole is a good avocado or two. They have a mild, creamy taste that mixes well with the acid in citrus fruits and tomatoes.
The easiest way to tell if an avocado is ripe is by feel. It should be soft to the touch – but not too soft. If the outer peel feels loose, the avocado is over-ripe. Ripen hard avocados in a paper bag on the kitchen counter. Ripe avocados will keep several days in the refrigerator.

Easy Guacamole Dip Recipe
This recipe makes approximately 1 ½ cups guacamole. It serves 4 as an appetizer but they may beg for more!
Ingredients
Ingredients:
1 large, or 2-3 small ripe avocados
Juice from ½ of a fresh-squeezed orange
¼ cup finely minced sweet onion
1 jalapeno pepper, minced
¾ cup chopped fresh tomatoes
2-3 teaspoons fresh chopped cilantro
Salt to taste
Instructions
Slice the avocado in half and remove the pit. Remove pulp by slicing cross-wise and length-wise through the avocado, but not cutting through the outside peel. Spoon out pulp and place in a bowl.
Using a fork, mash the avocado to the desired texture.
Add remaining ingredients, stir, and enjoy the guacamole with tortilla chips, your favorite burrito, on sandwiches, or by itself.
Easy Guacamole Recipe
In this recipe, we use one of the larger, new varieties of avocado that contain less fat than the more familiar – and smaller – Hess avocados. If you buy the smaller types with the pebbly skin, you'll probably want to use 2-3 avocados instead of just one.


History and Health Benefits of Avocados


Avocados have an interesting history. Aztec lore held that avocados were aphrodisiacs (the word "avocado" is derived from an Aztec word meaning "testicle tree"), and they passed that story along to the Europeans. Christian religious leaders warned congregations to steer clear of avocados, lest the effects lead them to temptation.
Actress, Mae West, a woman who knew a lot about temptation, claimed to eat one per day and attributed her beauty and robust desires to the avocado.
Don't worry about over-indulging. Avocados have a bad reputation. Yes, they're high in fat, but it's monounsaturated fat, which seems to help lower cholesterol levels in some people.
And even if they had no health benefits at all, so what? This guacamole is delicious, so eat up. As avocado-lover, May West, once observed:
"Too much of a good thing can be wonderful."
Are you looking for other fresh veggie recipes? Here is an article on how to make pesto that includes easy pesto recipes you will make over and over again.