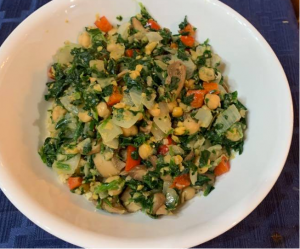 Garbanzos and Spinach
Garbanzos and spinach combine to make a delicious side dish with just a hint of cumin. Add rice or quinoa to use as a main course.
Ingredients
1 Tbl olive oil
½ onion, chopped
½ red bell pepper, chopped
4 cloves garlic, minced
1 small can sliced mushrooms, drained
10 oz frozen chopped spinach, thawed and well-drained
1 can garbanzo beans, drained
½ tsp salt
½ tsp cumin
Instructions
Saute onion and bell pepper in olive oil over medium heat about 3 minutes, then add garlic and continue to saute until onions are sotened (about 5 minutes total).
Add remaining ingredients and heat another two minutes, stirring frequently. While stirring, mash garbanzos to break them up somewhat.
Serve as a side dish or serve over prepared quinoa as a main course.