Bell Pepper Quiche Makes Colorful Main Course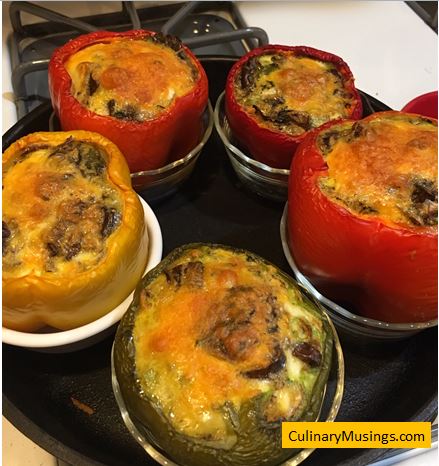 Ingredients
4 bell peppers - mix of colors
1 cup broccoli or asparagus - diced
4 mushrooms - diced
2-3 green onions- diced
4 eggs
1/2 cup milk
1/2 tsp. garlic powder
1/4 tsp. dried Italian seasoning
Salt and pepper
Handful of cheese
Directions
HEAT oven to 325°F.
CUT tops off peppers; remove seeds. PLACE peppers upright in custard cups then place cups in a pan.
Add 1/4 cup broccoli or asparagus, mushrooms, green onions into each pepper.
BEAT eggs, milk, garlic powder, salt, pepper, and Italian seasoning in bowl until blended.
POUR egg mixture into peppers. Top with cheese.
BAKE at 325°F oven until firm, 60 to 70 minutes.