A southwestern take on shepherds pie, with a delicious cornbread topping.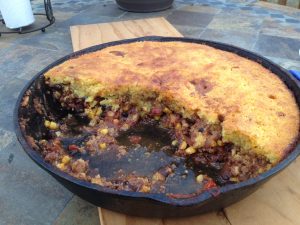 Vegetarian Cowboy Shepherds Pie
Prep time:
Cook time:
Total time:
Ingredients
1 green bell or anaheim pepper, cut in strips
1 red bell pepper, cut in strips
1 medium purple onion, sliced
2 cloves garlic, or 1 T chopped garlic
1 can yellow corn, drained
1 can fire-roasted chopped tomatoes
2 cans seasoned black beans (do not drain)
1 T cumin
1 t ancho chile powder (or other powdered chile - not chili powder)
salt and pepper to taste
Topping: http://www.culinarymusings.com/2009/10/aunt-helens-easy-sweet-cornbread-recipe/
Instructions
Preheat oven to 375 (as per cornbread recipe)
In a 12" cast iron skillet, saute peppers and onions until softened. While softening, prepare cornbread batter.
Add garlic and saute two more minutes.
Add corn, tomatoes, beans and seasoning. Heat until bubbling.
Pour cornbread mixture over top, ensuring batter reaches to edges of skillet. Bake as per cornbread recipe (about 30-35 minutes, or until browned on top).