Dutch Oven Mexican Lasagna Recipe
This one-pot meal is an excellent camp recipe. Consider using ground buffalo and low-fat cheese to make it a bit healthier. We cook this in a Dutch Oven as camping food or at home in the oven. Always a popular dish at Dutch Oven Club gatherings.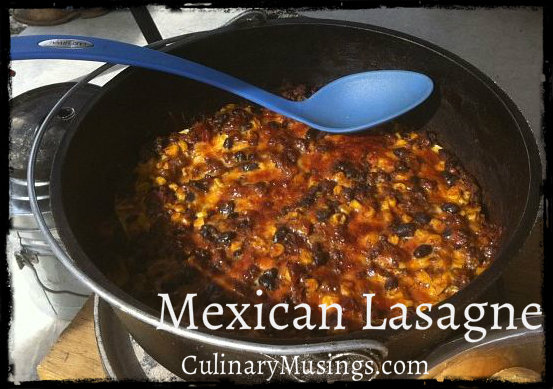 Dutch Oven Mexican Lasagna Recipe
Chef:
Dutch Oven Mexican Lasagna
Recipe type:
Entree, Dutch Oven
Ingredients
1 pound ground beef or ground buffalo
1 Tbs Chili Powder
1 tsp Cumin
3 cloves garlic, chopped (or heaping tablespoon chopped garlic from jar)
1 can chopped Tomatoes with basil and garlic
1 cup Pace Picante Sauce (medium)
1 can black beans, drained
1 can white or yellow corn, drained
12-15 corn tortillas (can use flour tortillas instead)
2 cups shredded Mexican cheese mix
Optional for garnishing along with remaining picante sauce:
Sour Cream
Sliced Jalepenos
Small can of sliced black olives
Instructions
This meal can be prepared in a deep 9 X 13 casserole or a 12 or 14 inch dutch oven. Recipe can be doubled if using 14 inch Dutch Oven (assembling 6 layers instead of 3)
Preheat oven to 350.
In a skillet or dutch oven, brown ground beef, drain off grease (not needed if using buffalo). Add spices and garlic, stir and cook for one additional minute, then add tomatoes, picante sauce, beans and corn. Stir mixture to combine. Move mixture to a bowl if using dutch oven.
Place a little of the mixture on the bottom of the dish/dutch oven, then layer tortillas, ½ cup of cheese and ⅓ of remaining mixture. Use 3-4 tortillas for casserole tearing one in half as needed for an even layer, or five for dutch oven laid out like petals of a flower. Repeat tortillas, cheese, then mixture two more times, then put remaining cheese on top.
Cook at 350 for 30 minutes (for casserole) or 45 minutes (dutch oven), or until hot and bubbly and cheese is melted and slightly browned.
Let sit for 5 minutes before serving.