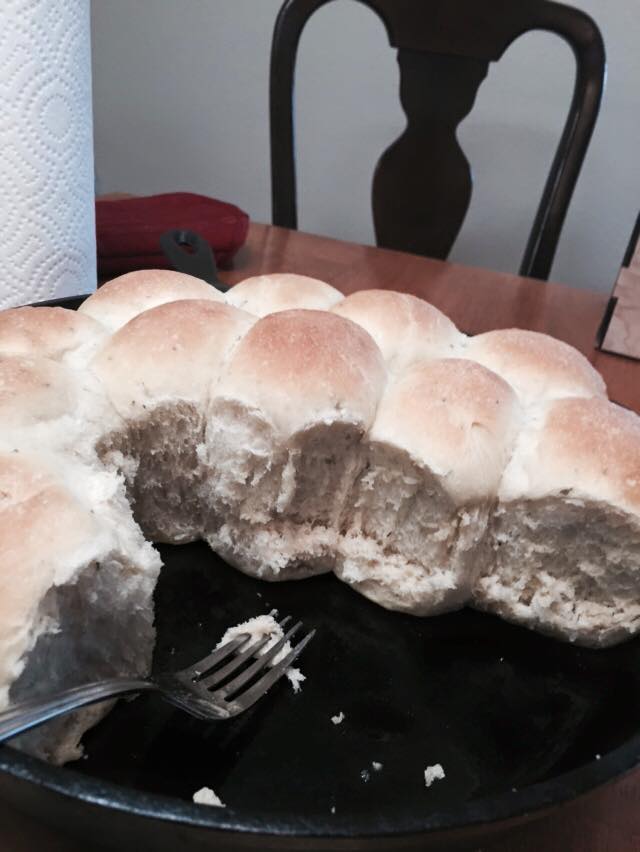 Herbed Dinner Rolls
Prep time:
Cook time:
Total time:
Fluffy, yeasty dinner rolls with an herbal accent. Two hours from start to tabletop.
Ingredients
2 cups warm water
1 pkg active dry yeast
2 T honey
5 cups AP flour (separated)
2 t salt
1 T Italian seasoning
2 T olive oil spread, melted
Olive oil
Instructions
Combine water, yeast, and honey in measuring cup.
Let proof for 5 mins.
Meanwhile combine 4 cups flour, salt, and herbs in large bowl. Mix well.
Add water/yeast mixture to flour and stir with wooden spoon. Add additional flour 2 T at a time until too stiff to stir.
Turn out on large floured cutting board or countertop. Knead for 5 mins, adding more flour as needed if too sticky to handle. A total of perhaps 1 cup of flour or more might be added, depending on humidity.
Return dough to bowl and cover top with plastic wrap. Let rise in a warm place 45 mins or until doubled in size.
Meanwhile, oil bottom and sides of 12" cast iron skillet with olive oil.
Punch down dough and turn out onto floured work surface, knead briefly, and divide into 16 portions.
Make a circle with thumb and index finger and push dough portion through and gather rough edges together at the bottom to make a smooth-topped ball. Place in skillet close together with other dough balls. Brush tops of rolls with melted butter/olive oil spread.
Let rise again for 30 minutes. Preheat oven to 375 while dough rises.
Bake 20 minutes.
Serve warm from the oven.