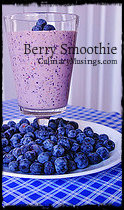 Easy Blueberry Smoothie Recipe!
This great smoothie is an amazing way to start the day and is super simple to throw together.
You can set this up the night before or prep your berries and tofu once a week in separate baggies and throw the berries in the  freezer and the tofu in the fridge.
This is a great way to ensure you're eating a healthful and quick breakfast on the go.

Recipe type:
Breakfast, Beverage
Prep time:
Cook time:
Total time: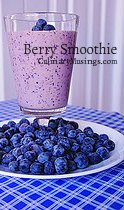 Ingredients
1¼ cups orange juice
1¼ cups berries, frozen (I like blueberries)
½ cup tofu, silken, low-fat or
½ cup plain yogurt, low-fat
1 tablespoon honey or sweetner, I like Truvia
Instructions
Dump it in the blender and let it rip!
Image Courtesy Kitchen life of a Navy Wife on
Flickr