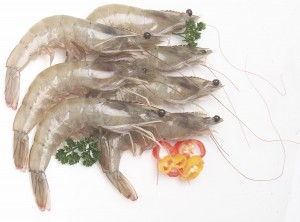 Whether you love shrimp, scallops or a combination of the two, this is the perfect recipe for you. With mouth watering flavors and tasty textures you cannot go wrong with this oriental style recipe. Stop by your local fish market or grocery store fish department and see what looks good. Pick and choose to your liking and invite some friends over. You will not disappoint anyone with this delicious dish.
Supplies You Need
• Cutting Board & Knife
• Measuring Spoons
• Measuring Cup
• Strainer
• Fine Grater
• Medium Bowl
• Large Wok with Lid
• Large Wooden Spoon
• Can Opener

A Summer Favorite: Shrimp and Scallops with Pea Pods
This is a wonderful dish to enjoy with your friends and family this summer. Do not hesitate to make it if you love seafood. The medley of shrimp and scallops together in an oriental style dish has such great flavor you will not be disappointed.
Ingredients
1 ½ Pounds of Raw Medium Shrimp
¾ Pound of Fresh Scallops
5 Ounce Can of Sliced Water Chestnuts
5 Ounce Can of Slices Bamboo Shoots
2 Cups of Fresh Pea Pods
1 Large Can of Young Baby Corn in Water
1 Bunch of Fresh Scallions
1 Can of Straw Mushrooms
4 Tablespoons of Grated Fresh Ginger
4 Tablespoons of Marin Cooking Wine
2 Cloves of Fresh Garlic
3 Tablespoons of Soy Sauce
¼ Teaspoon of Hot Oil
Peanut or Safflower Oil
6 Servings of Rice
Instructions
Before you start the dish measure your water and rice and put it in the rice maker or a pan on the stove. Rice usually takes the longest so make sure you make it first, otherwise it will not be ready when the food is fresh and hot.
Once the rice is cooking you should begin slicing the scallions and grating the garlic. Then you will want to open all the cans and drain them using the lid so you can pour the contents into the wok when the timing is right.
Next wash the pea pods in the strainer and shake them mostly dry. Place the pea pods in a bowl and then put your shrimp and scallops in the strainer and rinse well with cold water.
With all the preparations complete it is time to put your stove on high and add about 2 Tablespoons of oil, pressed garlic, grated ginger and shrimp. Once sizzling for a few minutes add the scallops and stir with your wooden spoon. Cook for about 5 to 7 minutes and then set aside in a large bowl.
Add 2 additional Tablespoons of oil to your wok along with the pea pods, water chestnuts and bamboo shoots. Stir for about 3 to 5 minutes and then add the baby corn, scallions, Marin cooking wine and hot oil. Stir for about 2 to 4 minutes.
Add the shrimp and scallops back into the wok along with the soy sauce. Stir occasionally for about 5 to 7 minutes to ensure the seafood is completely cooked and then simmer on low for an additional 5 minutes before serving. This will allow the seafood to soak up some of the delicious flavor from the sauce and seasonings.
With the rice finished cooking take a nice serving and place it on a plate before adding a generous helping of the shrimp and scallops with pea pods on top. If you made it with only one or the other it will still taste delicious.
By: Alexine