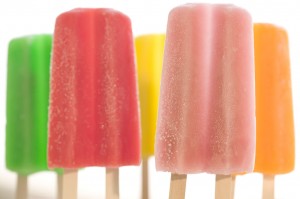 When it comes to sweet deserts and rewards for your kids there is nothing like a tasty treat. We all loved getting them as children and our children love treats as well. While it is nice to share the fun with your kids it is important to look out for their health. In order to help make better desert choices here are some healthy alternatives to treats for your kids.
Fruit Leather vs. Fruit Rolls
While kids love to take fruit rolls in their lunch box to school they are not fruit at all. Most fruit rolls and fruit snacks are make with sugar, artificial flavors and high fructose corn syrup. While they may have added vitamins there is nothing natural about them.
A healthy alternative to artificial fruit rolls is fruit leathers which are made with real fruit and sweetened with fruit juices. These are not loaded with artificial flavors or colors and are much healthier for your kids. Make sure you read the labels as the ingredients are the true test on how healthy the snack is.

Sparkling Fruit Juice vs. Soda Pop
While most kids love a soda pop once in a while it is loaded with sugar and most are full of caffeine and high fructose corn syrup. That makes soda pop a very unhealthy drink to give your kids and also can make them hyper or jittery.
A healthy alternative to soda pop is sparkling fruit juice or one hundred percent fruit juice with sparking water mixed together. These have less sugar and still satisfy the taste for a bubbly sweet drink.
Frozen Yogurt vs. Ice Cream
Most kids love the taste of creamy sweet ice cream as long as they do not suffer from dairy allergies. While it is fine treat to have once in a while it is important to read the labels. Many ice creams are full of artificial flavors and unnecessary sugars.
A healthy alternative to ice cream is low-fat frozen yogurt. Also if you eat ice cream several times each week it is important to take into consideration the fat and sugar content. Kids will eat ice cream every night if they are allowed. Having low-fat frozen yogurt around will give you a healthy alternative to offer your kids.
Real Fruit Pops vs. Frozen Popsicles
While popsicles are easy and not very expensive in the summer, most are not made with any real fruit juice. It is important to read labels in the frozen desert isle as many popsicles claim to be made of real fruit juices that are not.
A healthy alternative to traditional popsicles is making your own popsicles out of one hundred percent fruit juice. There are molds for popsicles at the stores and plenty of fruit juices to choose from that have no sugar added.
Dried Fruit vs. Candy
Every kid is happy to have a sweet candy treat after meals and as a reward for going to the bathroom on the potty or getting an A in school. While these are very reasonable reasons for give a sweet reward it is important to think about what you are giving your child.
A healthy alternative to giving your kids candy as a treat is to give them dried fruit. While it is more expensive than candy, dried fruit is higher in fiber and naturally sweet without the need of extra sugar.
Give these healthy treats a try in your house and you might just want to switch over for good. While a not so healthy treat is ok once in a while it is important to have healthier alternatives around. This way you can still give you kids treats without all the extra sugars and artificial ingredients.
By: Alexine