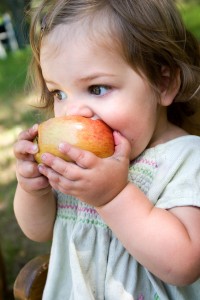 As a mother of two little boys I have explored all the fun organic finger foods available to curious babies. While they do not have enough teeth before the age of one, they still have curiosity so it is important to address that. Here are some great first finger foods to try with your babies.

Puffed Rice
This is one of the least expensive puffed snacks available for purchase. There are so many brand name specialty baby puffs with flavor and sugar. However, the plain little puffed rice pieces taste just fine and are great for babies. A huge bag only costs you a few dollars in comparison to a little container.
Freeze Dried Fruit Pieces
There are several companies that prepare freeze dried fruit. Make sure the pieces are about the size of a pea if you buy a brand that is not labeled for babies. These are great for keeping baby entertained while you prepare dinner and are tasty to eat.
Yogurt Melts
These yummy little baby finger foods come in a variety of flavors and are freeze dried so baby can pick them up easily. They also have organic and non-organic brands so you can choose based on your preference.
Flavored Puffs
While I mentioned puffed rice earlier there are also some fun baby puffs available that are not coated in sugar. These little melting puffs are much softer than traditional oat circles people have given their babies over the years. Try melting one in your mouth to test how easy a baby can gum them before you give any to your baby. Some brands are more firm than others.
Teething Biscuits
Several different brands market teething biscuits and I recommend the organic wheat and rice ones. While teething biscuits are a wonderful thing it is important to watch your baby closely. The biscuits are quite hard but after gumming them for a while babies can actually get chunks off which can be a choking hazard.
Steamed Veggies & Fruits
If you stick to the rule of pea sized pieced you can try most veggies steamed for your baby. Things that they can gum are best like carrots, potatoes, squash, pumpkin, apples and green beans. They all need to be peeled, cut and steamed before serving.
Fresh Fruits
Soft fresh fruits are great finger foods as well like strawberries, melons and blueberries cut in pieces. Grapes are dangerous and need to be peeled and cut as a first finger food. Also nectarines, peaches and plums need to be peeled and cut into pea sized pieces in order to serve them. Avoid oranges, grapefruit and tangerines due to their tough pulp and acidity.
Be Careful & Responsible
While you can come up with many different types of foods and snacks for babies it is important to remember they gum things. If a food item is too hard or tough they are unable to break it apart with their gums and limited teeth. Be sure to try everything yourself before giving it to your baby by pressing it against the roof of your mouth with your tongue. This will give you a sense of how your baby can gum the food.
Be responsible about the size and texture of food because choking is a real hazard with young children. Enjoy exploring fun finger foods for your babies and remember to always try them first.