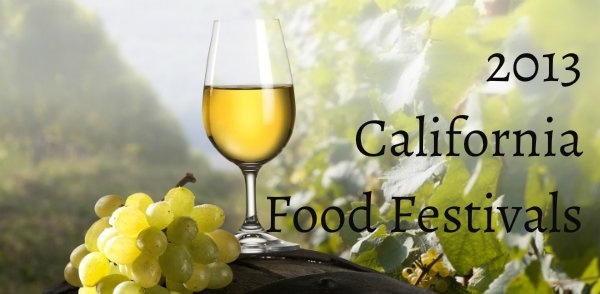 Food festivals are becoming more and more popular.  Many families and groups of friends make annual pilgrimages to these Gatherings, whether they're gourmet or just considered "down home" get-togethers.  California, long known for it's tradition of local and artisanal food products is one of the most active food festival states, with dozens of food fairs held annually.  Each month there is something to do and a festival to visit.  Here are a few of the most popular food festivals in California in 2013.  This is by no means an exhaustive list, but it should give you some great ideas.  If we missed an event you truly love, add it in the comments below!
January
Mendocino County Crab Wine, Crab & Beer Festival
Listed as one of the top 10 Seafood Festivals in Coastal Living Magazine, this is a can't miss event if you love all things wine and seafood. Come find the perfect wine to pair with the Pacific Northwest's famous Dungeness Crab.
Starts: 01/18/2013
Ends: 01/27/2013
Napa Truffle Festival 2013
Learn more about this fabulous fungus from world-famous Michelin star chefs and growers and scientists dedicated to the cultivation and creation of Truffle-based dishes. This one is definitely a specialty show, but worth the visit if you're a truffle lover.<br />
Starts: 01/18/2013
Ends: 01/21/2013
February
Holtville Carrot Festival
Come celebrate all things Carrot. Fun for everyone in this Southern California Carrot Capital of the World. Food, Carnivals, Parades and cooking contests headline this festival in its 66th year.
Starts: 02/01/2013
Ends: 02/10/2013
Santa Cruz Clam Chowder Cook-off & Festival
In its 32nd year, this festival features an Individual and Professional division of Clam Chowder Cooking Competition. You'll also be amazed at the costumes the contestants dawn. Stick around for the crowning of the Clam Fairy. Tasting tickets are only $9 – this festival is a must-see if you're a Clam Chowder aficionado.
Starts: 02/23/2013
Ends: 02/23/2013
March
Paso Robles Zinfandel Festival
This festival brings over 130 wineries and food vendors together to enjoy great live music and winemaker dinners. This is a great couples or friends getaway in Paso Robles, CA<br />
Starts: 03/15/2013
Ends: 03/17/2013
April
California Wine Festival – Orange County
Orange County, CA. Enjoy a wide variety of California wines and experience the tastes of dozens of California's top food artists. Great live music and a wide variety of food purveyors.
Starts: 04/19/2013
Ends: 04/20/2013
May
Temecula Valley Balloon and Wine Festival
Come see Southern California's finest at the Temecula Valley Balloon and Wine Festival. Enjoy wine tastings and amazing food vendors. Be ready to come out early and see hundreds of balloons launch into the skies above Lake Skinner. This is a wonderful family-friendly festival.
Starts: 05/31/2013
Ends: 06/02/2013
June
Palm Springs Restaurant Week
This culinary celebration features hundreds of restaurants that cover the miles from Indio into Palm Springs. Early summer brings this opportunity to enjoy a wide variety of cuisines from top chefs in the area.<br />
Starts: 06/01/2013
Ends: 06/10/2013
July
California Wine Festival
Santa Barbara, CA. In it's 10th year, this Annual festival is one of the largest in California. You're going to see hundreds of wineries, food vendors, and live music opportunities over the weekend. This is a great place to find a new favorite wine or pair an old favorite with a great artisan bread or cheese.
Starts: 07/18/2013
Ends: 07/20/2013
Gilroy Garlic Festival
Located just west of Oakland/San Jose, Gilroy is a small town with a big reputation. Purported to be the garlic capital of the world, a large amount of the US's garlic comes from the area. If you drive through town at the right time of year, the desire to stop for Italian almost takes over your brain! This is a wonderful family event and is fun for the whole family.
Starts: 07/26/2013
Ends: 07/28/2013
October
Harvest Wine Weekend
Come visit Paso Robles for the Harvest Wine Weekend. Enjoy a fabulous variety of vineyard tours, special tastings and winemaker dinners. See a blending seminar, or try your hand at stomping the grapes a la I Love Lucy. This is a huge event that spans over 120 vineyards.
Starts: 10/18/2013
Ends: 10/20/2013