This one is great for on the stove top or in the campfire.  You can prep all of the vegetables before you  leave home and have them ready to throw together over your campfire.  The flavors come together wonderfully and the scent is intoxicating.  If you're camping near others, they may just wander into your homestead with their bowl and spoon.  Luckily this makes a good amount of soup!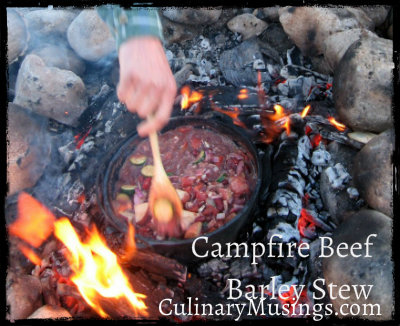 Dutch Oven Beef & Barley Soup
Prep time:
Cook time:
Total time:
Ingredients
1 Tsp Vegetable Oil
1¼ Lbs Beef Chuck cut into 1" pieces
1 tsp salt
dash of black pepper
1 medium onion, halved then sliced
3 cloves garlic, chopped
3 C Beef Stock (I've used water & boullion while camping with no issue - watch the salt content though)
2 Large Carrots, Sliced
2 Ribs Celery, Sliced
1 Can Crushed Tomatoes, 15oz
8 oz Crimini Mushrooms, sliced
¾ Cup Barley
Instructions
In your dutch oven heat the oil
While oil is heating, season beef with salt and pepper and saute in hot dutch oven until brown on all sides.
When beef is brown, add onion and garlic and cook until onion is translucent, generally about 3-5 minutes
Add your stock, plus 3 more cups water to the beef mixture, along with the carrots and celery. Cover tightly and simmer for about 60 minutes. If camping,you can do this over your open fire or put hot coals under and over your dutch oven. The goal is to simmer, not boil, so control your heat carefully.
After 60 minutes, add the tomatoes, mushrooms, barley and test the salt content of your broth.
Cover again and simmer for 30 more minutes stirring occasionally so the barley doesn't burn on the bottom.