This recipe was adapted from an old Martha Stewart recipe.  I took out some ingredients and added in some good things like Garlic.  She made her cornmeal dumplings from scratch – that was too fussy for me, so I just use a box mix.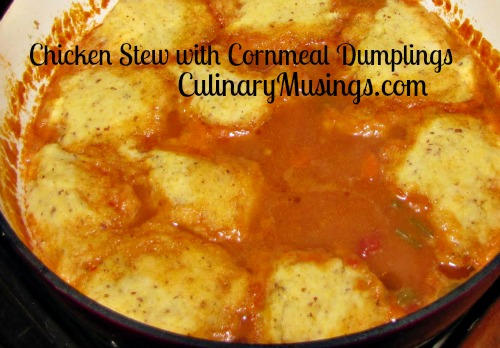 Chicken Stew with Cornmeal Dumplings
Recipe type:
Soups and Stews
Ingredients
3 Tbsp. Butter
5 boneless, skinless chicken thighs, or 3 boneless skinless chicken breast; cut into 1-inch pieces
Coarse salt and ground pepper
4-6 Green Onions, cleaned and sliced into 1" pieces
1 medium red bell pepper, seeded & diced
2 celery stalks, diced
2 medium carrots, diced
1 clove garlic, minced into a paste
1 teaspoon dried thyme
¼ cup all-purpose flour (leveled)
1 bottle pilsner or another light- or medium-bodied lager (12 ounces each)
1 can (28 ounces) crushed tomatoes
2 Cups Chicken Stock
Cornmeal Dumplings
1 box Jiffy Dumpling mix, prepared to package directions.
Instructions
In a large Dutch oven melt 1 tablespoon butter over medium-high. Season chicken with salt and pepper, add to pot, and cook, stirring occasionally, until browned on all sides, about 5 minutes.
Remove the chicken to a paper towel lined plate to drain.
While chicken is draining, add 2 more Tbsp. butter to the dutch oven along with green onions, peppers, celery & carrots to the pot. Cook until onions are translucent and start to turn golden brown
Stir in garlic, thyme & flour & season with a bit more salt and pepper; cook 1-2 minutes.
Add chicken back into the pot and whisk in chicken stock & beer
Stir in tomatoes along with juices.
Bring to a hard simmer and cook, uncovered, 30 minutes. Season to taste with vinegar.
When carrots are soft in the stew, drop cornmeal mixture onto simmering stew by the large spoonful.
Cover and cook 7-10 more minutes until dumplings are done in the middle.