While this recipe breaks some rules and crosses some cuisines, the flavors are amazing and it makes a great side dish, or main dish if you're inundated with Brussels Sprouts.  If you don't have Hoisin sauce, use regular BBQ sauce, it will taste a little different, but they'll still be good!
This is a great way to introduce non-sprout eating kiddos to this gem.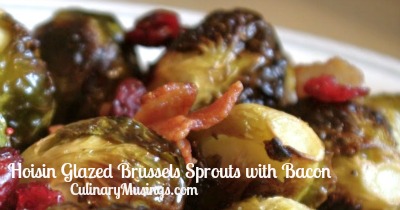 Hoisin Glazed Brussels Sprouts with Bacon
Ingredients
1 pound brussels sprouts, rinsed, trimmed & cut in quarters
3 slices bacon, sliced into lardon
1 Tbsp vegetable oil
½ onion, sliced thinly root to tip
1 tsp. minced ginger
1 garlic clove, minced
2 tsp. seasoned rice vinegar
2 tsp. soy sauce
3 Tbsp. hoisin sauce
1 teaspoon dark sesame oil
Salt & pepper to taste
Instructions
Whisk together the onion, garlic, ginger, seasoned rice vinegar, soy sauce, and hoisin sauce in a small bowl.
Line a baking sheet with foil, move oven rack to 2nd slot from the top
Turn broiler on high
Dump cleaned Brussels sprouts & bacon on the cookie sheet, drizzle over 1 Tbsp Vegetable oil and rub into the Brussels sprouts
Place on 2nd rack and broil, on high, until sprouts start to brown – about 15 minutes
Pull out of oven, pour soy sauce mixture over the top and mix well
Return to broiler for about 5 minutes.
Remove and drizzle with dark sesame oil – salt & pepper to taste
Serve hot.