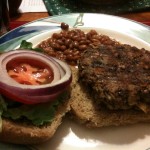 I've been on a black olive kick lately. I've been craving them so I figure there is something in them my body needs.
I've been adding black olives to various dishes and salads lately. Last night when I was trying to come up with something new for dinner, I decided to try a new twist to old fashion hamburgers - Greek Burgers!
To make the Greek Burgers I added feta cheese and chopped black olives to my normal hamburger recipe and grilled them up. They were a nice subtle twist to the usual burger. Here's my recipe below.
1 pound ground beef (or ground turkey or ground buffalo - I personally use ground buffalo all the time now)
1 small can chopped black olives
1/2 cup crumbled feta cheese
1 tsp dried oregano
Pepper
Salt
1/2 cup bread crumbs
1 egg
splash of milk
Mix together and form into patties. I grilled mine on an indoor grill (it was in the teens outside last night).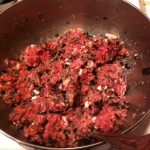 I served mine on a whole wheat bun with fresh bibb letteuce, tomato, red onion and catsup. You could also use plain yogurt and garlic mixed as a spread on the bun.
Enjoy.