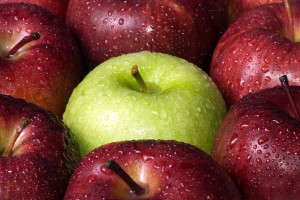 While it is easy to grab baked goods at the grocery store or a bakery on the way to work that is not always the healthy option. They may taste delicious, but do you really know how much of each ingredient goes in them?
For an easy and healthy alternative that will also save you money here is a delicious Apple Muffin recipe to try.
Ingredients You Need
• 1 Whole Egg
• 1 Cup of Milk
• ¼ Cup of Oil
• 2 Cups of All Purpose Flour
• ½ Cup of Granulated Sugar
• 3 Teaspoons of Baking Powder
• 1 Teaspoon of Salt
• 1 Cup of Grated Apple
• 1 Teaspoon of Cinnamon
• 1/3 Cup Brown Sugar
• 1/3 Cup of Crushed Nuts
Supplies You Need
• Large Mixing Bowl
• Small Mixing Bowl
• Mixing Spoon
• Measuring Cups
• Measuring Spoons
• Large Grater
• Vegetable Peeler
• Muffin Pan for 12
• Muffin Papers
• Cooling Rack
Making the Muffins
• Preheat your oven to 400 degrees and take out your ingredients and supplies. Peel your apple with the vegetable peeler and grate it with the largest setting on your grater. Set aside.
• In your large mixing bowl add the egg and beat it. Then add the milk and oil and mix together with the spoon.
• Next add the sugar, baking powder, salt and ½ teaspoon of the cinnamon and mix well. Slowly add the flour, mixing in between to ensure the batter is mixed well. Once the batter is mixed together add the grated apple and mix again.
• Place papers in the muffin tin and spoon batter into the tin until the papers are 2/3 of the way full. Then take your small mixing bowl and make the apple muffin topping by mixing together the ½ teaspoon of cinnamon, brown sugar and crushed nuts.
• Take the topping and sprinkle a little on top of each muffin before placing the tin into the oven. Bake for 25 to 30 minutes or until golden brown.
• Remove muffins from the oven and place on cooling rack for 30 minutes. Serve warm and put the left over muffins on a plate and cover so you can take them with you in the morning.
This is a wonderful on-the-go breakfast that everyone in the family can enjoy. Make yourself a batch today and remember to pack one in your briefcase or purse every morning.