Years ago we introduced my niece Natalie, a confirmed veggie-hater, to the wonderful world of carrot souffles.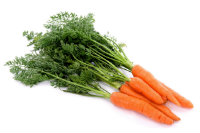 Natalie spent several summers with us and until she discovered this recipe, she was a girl who didn't like carrots or most other vegetables. The carrot souffle recipe not only converted her, it made her became a huge fan of carrots.
We made the recipe several times in her honor each time she visited with us. Even today whenever I make carrot souffle I think of my niece Natalie.
Natalie is grown now and has a little daughter of her own who probably doesn't like carrots. I figured it was time to pass on the recipe, so Natalie could introduce her daughter to the best way to eat carrots.
I have posted the recipe below. I guarantee you will love it so much you might want to serve it as dessert.

Prep time:
Cook time:
Total time:
Get even the most adamant carrot-haters to eat their veggies with the great recipe!
Ingredients
2 lbs fresh carrots
1¼ cups sugar
1½ tsp baking powder
2 tsp vanilla
2 Tablespoons flour
3 eggs beaten
1 stick margarine
powdered sugar to sprinkle on top after baked.
Instructions
Preheat oven to 350 degrees.
Put carrots in pan with water and boil until carrots are soft. Drain carrots and put carrots in food processor. Put margarine in food processor with carrots.
After pureeing carrots, put mixture in a large mixing bowl. Add sugar, eggs, baking powder and vanilla.
Beat until smooth. Add flour and mix well. Pour into an 8×12 baking pan (or 2 quart casserole dish).
Bake for 1 hour or until golden brown.
Sprinkle with powdered sugar and serve. Yumm!
We sometimes laugh and say carrot souffle is eating dessert as a side dish, but it is always a hit at our family dinners.