My husband and I love baked beans, and while the kids are not huge fans of canned beans, they will eat these - because you stay far away from the can.  I adapted the recipe from a Cooks Illustrated recipe I found, mostly because their recipe called for a boneless smoked pork shoulder roast - which I cannot find in our neck of the woods.  I, instead, use smoked turkey wings in my recipe, and HamBeens Great Northern Beans.  The beans are easy to cook with and the turkey wings provide great flavor, a bit leaner than pork, and less expensive than pork.
You can cook these in the kitchen oven, or stir them up at your next campsite - keeping your outdoor dutch oven at 350 degrees is fairly simple - most cooks use about 16 nice coals on top of their dutch oven, and 10 around the bottom.
Yum!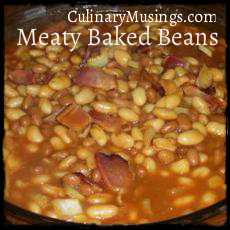 Let me know what you think, I'm always looking for recipe feedback!

Baked Beans with Smoked Turkey Recipe
Prep time:
Cook time:
Total time:
Ingredients
1 Tbsp Vegetable Oil
1 Onion, minced
3 Cloves Garlic, minced fine
6 Cups Water
4-5 Smoked Turkey Wings - about 3 pounds total
1 Pound Ham Beens Great Northern Beans
1 Cup Ketchup
½ Cup Brown Sugar, Packed
¼ Cup Prepared Mustard
2 tsp. raw horseradish (optional)
Pepper to taste
Instructions
Rinse and sort the beans, make sure there are no pebbles in your batch.
Place beans in your dutch oven and cover with about 1" of water
Bring to a boil and simmer for 1 hr, turn heat off and let sit for 1 hr
Drain
In the same dutch oven, empty now, heat vegetable oil and saute the onion and garlic until just brown. Add in the smoked turkey wings, still on the bone, and the beans.
Cover with the water and bring to a boil and cover
Move covered dutch oven into a 350 degree oven and bake until the beans start to soften - about 1 - ½ hours
When beans start to soften, remove dutch oven from the oven and pull the turkey wings out - remove the meat from the bones and add it back to your beans
Stir in ketchup, brown sugar, mustard and horseradish and bake, uncovered, until beans are tender and sauce is thick - about 2½ to 3 hours.
Check seasoning (salt & pepper) and serve with Aunt Helen's Easy Sweet Cornbread