This recipe is a gourmet culinary delight, and extremely simple to put together.  Enjoy on a week night or on the weekend.  This is absolutely the epitome of easy, rustic, and elegant.
Be sure to choose wine that you'd drink, but don't be concerned with buying a top shelf label.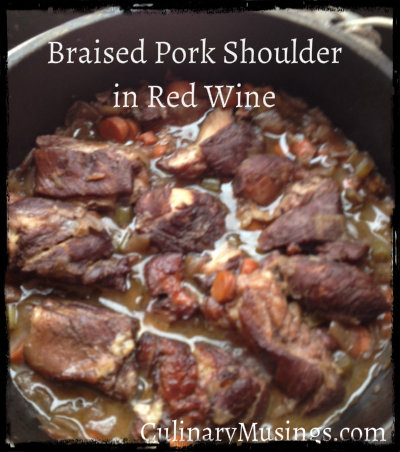 Braised Pork Shoulder in Red Wine
Prep time:
Cook time:
Total time:
This is an inexpensive, rustic dish whose long cooking time renders the pork fork-tender and delicious. Can be served as-is or over rice or egg noodles.
Ingredients
olive oil for browning and sauteing
2 stalks celery, rough chopped
2 carrots, cut into coins
1 large yellow onion, rough chopped
1 3 to 4 pound bone-in pork shoulder, bone removed and cut into 6-8 chunks
salt and pepper to taste
2 cups merlot (I use individual serving size bottles)
1 cup (more or less) chicken stock
1 bay leaf
Instructions
Heat dutch oven over medium-high heat. A full covering of coals within the legs is about right.
Chop the pork into large chunks, remove any bones found. Season generously with salt and pepper. Starting fat-side down, brown meat on all sides using a little olive oil. Remove from oven.
Saute vegetables in oil/fat from pork. Season with salt and pepper. Saute until onions and celery are mostly translucent. It it not necessary to FULLY saute the veggies, due to the long braise to come.
Deglaze pan with wine. Return pork to oven, nestling the meat beside the veggies. Add chicken stock to move liquid ½ way up the side of the meat. The goal here is to braise the meat, not boil it. Add bay leaf.
Cook at 325-350 for a long time: 2½ - 3 hours. Add coals about every 45 minutes to keep the liquid bubbling. Check to see if more liquid needs to be added, especially after 2 hours or if your lid is not tight-fitting.
Serve over egg noodles or rice, or just plain.
Notes
Adapted from Ten Dollar Dinners by Melissa d'Arabian Works in a 12 inch oven, 14 would be better for a large shoulder. Note that due to the long cook time, this will use up about 3 short chimneys of coals - plan accordingly. This works well using hardwood coals from a wood fire as well.