Cooked Cabbage is, for some, an acquired taste.  I grew up on Boiled Dinner - so have been eating cooked cabbage for years.  My kids, who didn't grow up on it, are not fans.  When I do cook cabbage now, the trick is to include enough other stuff to encourage even picky eaters to get full.  This recipe does the trick!  I adapted this from a few recipes, mainly the Italian stuffed cabbage recipe over at Smitten Kitchen.  Their recipe is good, but I needed to weak it a bit to fit our tastes.  I mixed a few recipes together to come up with this one!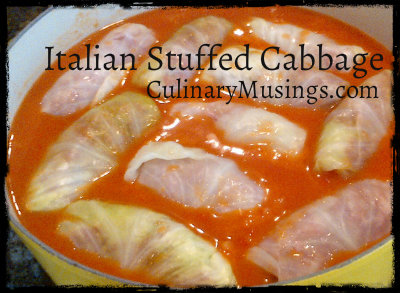 Enjoy!

Italian Stuffed Cabbage Rolls Recipe
Prep time:
Cook time:
Total time:
Ingredients
1 Large Green Cabbage
2½ Cups Rice, cooked
½ Cup Bread Crumbs
¼ Cup Milk
3 Italian Sausages, casings removed
1 tsp Italian Seasoning
½ tsp. Salt
½ tsp Pepper
2 Tbsp. Parmesan Cheese, grated
1 28-ounce can Whole Tomatoes – use a good tomato – I like San Marzano, Cento or Muir Glen
2 Tbsp. Olive Oil
1 Clove Garlic, peeled and minced
Instructions
GENTLY Peel off about 12 full cabbage leaves from your head of cabbage. Hopefully you've picked out a big one from the bin, large leaves work best.
Bring a large pot of water to the boil and salt liberally
When water is boiling, dunk the leaves for about 30 seconds, a few at a time, until they wilt – then pull and spread out on paper towels to drain and cool.
While leaves cool, pour milk over the rice in a large bowl, mix in the sausage meat, uncooked, and the bread crumbs, Italian seasoning, salt, pepper and parmesan.
Lay your first cabbage leaf on the counter, I like to put these on a clean tea towel. Cut out the thick stem end in the shape of a "V" so they lay flat. Make a golf-ball sized round of the filling mixture and lay it in the middle of the cabbage leaf. Fold the cabbage leaf in from the sides, and roll it up starting at the "V" you cut out. You can lay them seam-side down or pin the flap with a toothpick. I tend to not put toothpicks in them because they become hidden weapons at the dinner table.
Place each roll neatly next to the other on a piece of parchment until the sauce is ready
In a blender whizz up the tomatoes and add in a pinch of salt and pepper.
In a dutch oven heat the olive oil and sauté the garlic until it looks just barely brown. Pour in your crushed tomatoes and bring to a slight boil, season with a bit more salt and pepper to taste.
Carefully place the cabbage rolls around the Dutch Oven – gently sliding them into place with a wooden spoon and packing them neatly so they all fit. Push down so they're seated nicely in your sauce
Cover tightly and simmer gently for 25-30 minutes – we need to cook them long enough for the sausage to get done. Remove the lid and let them continue to simmer for about 10 minutes to reduce the sauce a bit.
Let rest for about 10 minutes then dig in!
NOTE: you can also substitute the rice for well-cooked and mashed cauliflower for a lower-carb dish!