I love risotto, but I've been really intimidated by it.  I've always wanted to try my own, but the chefs on tv and the elaborate instructions online made it a pretty daunting task.  I finally found a recipe in my Cooks Country magazine that made it approachable and easy - so I gave it a try.
Oh  My  Gosh!
Why did I wait so long?  Not only does this taste wonderful, it's really quite easy to put together!  Using your heavy dutch oven makes prepping and baking a snap and finishing is simple as can be.  There' s no stirring and slowly ladling in broth that is heating in an other pan on the stove.  You just prep the rice, warm the broth, and voila.  I did adjust the recipe just a bit to cut down on dishes and time, but it's still amazing!  Give it a try!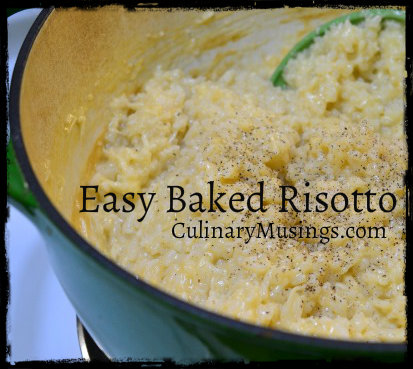 Creamy Baked Risotto - Easy Dutch Oven Side Dish
Ingredients
5 C. Chicken Stock (please use some you made, it makes all the difference in this!)
½ C. Water
2 Bay Leaves
4 Tbsp. Unsalted Butter
2 Shallots, minced fine (you can sub onion also)
2 Cups Arborio Rice (has to be this kind, or it doesn't work)
3 Garlic Cloves, grated or minced
½ C White Wine, the recipe said dry - but all I had was Riesling and it worked nicely
1¼ C. Parmesan Cheese
1 Tbps Fresh Parsley
Instructions
Put your oven rack in the middle and preheat to 400 degrees.
Put the broth, water and bay leaves in a microwave safe bowl or pitcher and heat through. I use my Pampered Chef batter bowl - you want this warm by the time your rice is ready.
In your dutch oven, melt butter over medium heat, add in shallots and salt and cook until the shallots just start to brown.
Stir in your rice and cook until the edges of the rice get translucent - a few minutes
Stir in the Garlic and cook for just about 1 minute, no more.
Add in wine and cook, stirring until the wine is almost completely absorbed, this happens fast, about a minute.
Pour your warmed broth over the top of the rice and wine mixture and cover your dutch oven with a piece of foil, pushing it down so it rests on tip of the broth - then crimp around the edges and put the cover on your dutch oven.
Bake about 15 minutes until rice is tender.
Discard bay leaves and stir in Parmesan cheese and parsley.