Not every day provides the time to slow simmer chili on the back burner - some days it's all you can do to carve out 30 minutes to throw something together.  While the debate over with or without (beans that is) rages on, we like the beans in this chili as it ads flavor, fiber, and protein.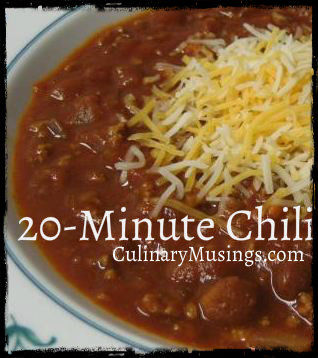 This chili recipe has great flavor for a quick cook - and goes great by itself or smothered over the top of a yummy hot dog.  Versatile and easy - give this one a try in your dutch oven - it's a great option!

Easy 20-Minute Chili
Recipe type:
Soups & Stews
Ingredients
1 lb lean ground beef or 1 lb ground turkey
1 small onion, chopped
1 clove garlic, minced
1½ cups water or 1½ cups beef stock
1 tablespoon chili powder
1 teaspoon salt
1 can, 15 oz chili beans, undrained (use hot if you like spicy chili)
1 can, 6oz tomato paste or 4 Tbsp if you use the tube
Instructions
Cook Meat, onion, and garlic in a dutch oven on medium high heat until browned, stirring to crumble the meat well.
Drain in a colander and rinse with hot water, return to pan. Stir in water (or stock) and remaining ingredients.
Cover, reduce heat, and simmer 15 minutes, stirring occasionally. You can cook for longer if you have time, but 15 minutes gets it hot through and combines the flavors nicely.