I am a big fan of lasagna.  Traditional lasagna is amazing, but make some changes to the ingredients, and you've created something amazing and new - with bold flavors and great taste.  Ultimately this recipe at it's core is Guy Fieri's - but I've adapted it some because of the availability of ingredients and the difficulty in sourcing some things he uses every day.
I made the sauce in my dutch oven, you could also build and bake this in the dutch oven as well 🙂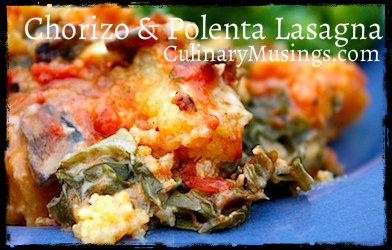 What do you think?  Is lasagna ONLY traditional - or does it take on new meaning with new ingredients?

Chorizo & Polenta Lasagna from Guy Fieri
Prep time:
Cook time:
Total time:
Ingredients
Polenta:
1 qt Homemade Chicken Stock (he calls for low sodium, but I salt mine - so adjust accordingly)
1¼ C Polenta, quick cook type
2 Tbps Unsalted Butter, melted
Chorizo Sauce
1 Tbsp Olive Oil
1 small onion, diced
1 lb Chorizo (near the sausage and bacon at the market - you want the ground raw kind, not the cooked kind)
2 Tbsp Red Wine Vinegar
4 Cloves Garlic, minced
1 14-oz can of Diced Tomatoes, fire roasted
For the Lasagna
1 Bunch Spinach, stems removed
1 Tbsp. Olive Oil
1 clove Garlic, grated or minced
Salt & Pepper to Taste
1 C. Mozarella, Grated
Instructions
Make the polenta by bringing the stock to boil in a pot, whisk in the polenta and keep whisking until it's fully incorporated - about 4 minutes. Check salt and add if it needs it. Cook over medium heat 5 more minutes and then fold in the melted butter. Cover and keep warm.
Place the chorizo and onion in a pan and brown, breaking up the chorizo as it cooks. Add the vinegar when the polenta is done along with the minced garlic and diced tomatoes. Simmer gently until the sauce thickens and reduces - about 15 minutes. Taste and season as needed
Preheat the oven to 350 degrees
Add 1 tbsp of Olive Oil to a saute pan then finely slice the spinach. Saute gently until wilted and season with salt & pepper. Drain in a colander and squeeze out excess moisture.
Butter your lasagna pan liberally and put half of the polenta in the bottom. Top with half of the chorizo sauce and all of the spinach. Sprinkle with ½ cup of cheese - then make one more layer with the rest of the polenta, chorizo sauce and cheese.
Cover with foil and bake for 30 minutes on a sheet tray to protect your oven. After 30 minutes, turn on the broiler and remove the foil - broil until the cheese is golden brown and bubbly. Let sit for about 10 minutes before serving.