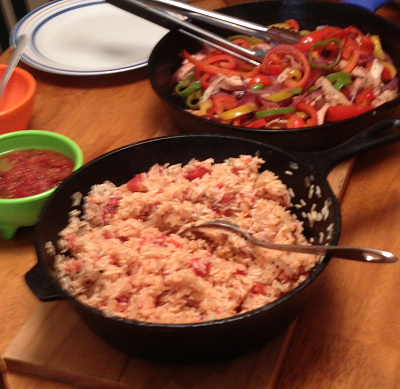 Mexican Rice
Prep time:
Cook time:
Total time:
Ingredients
12" Dutch Oven or deep saute pan
2 T oil
1 medium white onion, chopped
3 cloves garlic, chopped
2 cups rice (rinsed or unrinsed)*
1 tsp cumin
1 tsp salt
1 can fire-roasted tomatoes
2 cups chicken broth
½ cup water
Instructions
Heat oil in dutch oven. Add onions and saute until translucent.
Add garlic part way through.
Add rice and cumin and saute until translucent.
Add remaining ingredients, bring to a boil, then simmer 15-20 minutes, stirring occasionally, until liquid is absorbed.
* If you like your Mexican Rice more fluffy and less sticky, start by putting the raw rice in a strainer and rinsing for about 2 minutes under running water to remove some of the starch from the outside of the rice.