I love cajun food.  I've never been to Louisiana, so I'm not sure if what I make is authentic, but it tastes wonderful, and truthfully - that's kinda what counts.
Would I serve this Dutch Oven Jambalaya Recipe  to Paul Prudhomme?  Probably not - the man has had enough mediocre Jambalaya - I don't need to add my own version to the list, but I'd definitely serve this to my family, or company for Sunday dinner.  I've also made this without the chicken, sausage only, and I've used turkey sausage - it's all good, the recipe is very forgiving!
Give it a try and let me know what you think!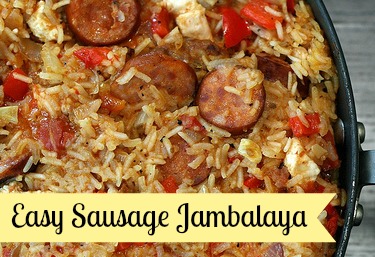 Dutch Oven Jambalaya - So Good You'll Slap Yo' Momma!
Recipe type:
Soups & Stews
Prep time:
Cook time:
Total time:
Ingredients
2 Tbsp olive oil
2 Tbsp Butter
1 lb boneless, skinless chicken breast
Salt & Pepper
2 celery stalks, chopped
1 small onion, chopped
1 bell pepper, chopped
1 pound sausage, cut into ½-inch pieces. Andoullie is best, but you can use kielbasa or something similar in a pinch
2 garlic cloves, minced
2 cups homemade chicken stock
¾ tsp Old Bay
1 15 ounce can of diced tomatoes
1 cup white rice
Instructions
Heat olive oil and butter in your dutch oven - season chicken breasts with salt and pepper and saute in the butter and oil until golden brown - about 5 minutes per side. When done, remove from pan and cut into ½" pieces and set aside. You can also dice the raw chicken and then saute in the butter & oil, either way works.
Add vegetables to pot the pot, stirring to scrape up the brown bits on the bottom of the pan, about 5 minutes. Add sausage and cook about 5 more minutes. Add garlic and let cook for about 1 minute.
Stir in stock Old Bay, tomatoes, and ½ cup water then bring to the boil
Once boiling, add in rice and chicken. Reduce heat; simmer about 5 minutes and cover tightly. Turn off the heat and let it stand, covered, about 30-35 minutes. Don't touch it during this time - your rice will be nice and tender, and not gummy. If you stir it, your rice will get gummy!
Season with salt and pepper to taste
Serve with biscuits!