I was first introduced to Buttermilk Pie after moving to Texas.  Sweet, silky, and very satisfying.  My wife says that this is her current favorite pie, even beating out my mixed berry pie recipe.
Check out this fabulous find after the jump!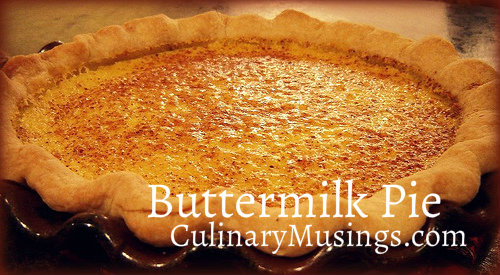 Buttermilk Pie - a Southern Classic
Prep time:
Cook time:
Total time:
A southern variation of the chess pie, buttermilk pie is a smooth custard pie with a hint of lemon. Delicious and easy to make.
Ingredients
1 unbaked deep dish pie shell, homemade or commercial
1-1/2 cups granulated sugar
4 teaspoons of cornmeal
2 tablespoons plus 1 teaspoon of all purpose flour
½ teaspoon salt
½ cup of butter
½ cup of buttermilk
2 teaspoons of pure vanilla extract
4 large eggs
Zest from one lemon, chopped fine
Juice of ½ of a lemon
Homemade whipped cream
Freshly grated nutmeg
Instructions
Preheat oven to 350.
Place pie crust into a 9 inch pie pan.
Blind bake crust for 10 minutes, or according to package directions.
Whisk together the next four ingredients.
Put butter in 1 cup glass measuring cup and microwave for 1 minute to soften/slightly melt.
Add buttermilk to melted butter, then vanilla and stir to combine.
Pour into dry ingredients.
Beat the eggs in a separate bowl, then add to other ingredients and mix.
Stir in lemon zest and juice.
Pour mixture into the pie shell.
Bake at 350 degrees F for 35 to 40 minutes or until golden brown and set.
Use a pie shield (or tinfoil) on the edges after about 20 minutes to prevent crust from over-browning. If necessary, tent entire pie with aluminum foil if the top of the pie itself is getting too brown.
Test for doneness by jiggling pie: if set the center should not move much at all. A toothpick inserted into the center should come out clean.
Let cool completely on a rack. Garnish with a dollop of whipped cream and freshly grated nutmeg on top.