Finding the right soup recipe is a great way to stretch your dollar while serving something filling, warming and hearty.  This stuffed bell pepper soup recipe is a great way to extend the grocery budget and serve something yummy.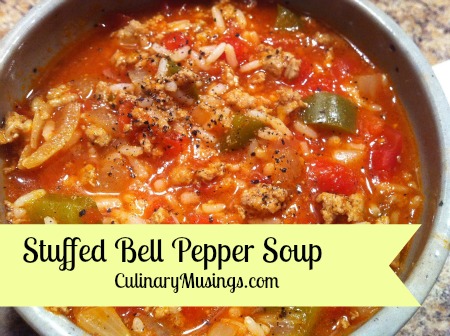 Give this one a try next time you need something yummy and budget friendly!

Dutch Oven Stuffed Bell Pepper Soup
Recipe type:
Soups & Stews
You can also put the browned ground beef and remaining ingredients into a crock pot. I did mine on high for 2 hours with the rice added. This is a good option if you can't go back to check the simmering pot often.
Ingredients
1 cup uncooked instant rice
2 cups beef broth or stock, heated
1½ to 2 lb ground beef
1 green pepper, diced
1 yellow or orange pepper, diced
1 small onion, minced
2 cloves garlic, minced
12 oz can tomato sauce
29 oz can diced tomatoes
Salt & Pepper to taste
Instructions
Brown ground beef, onion, garlic and peppers. Add salt and pepper to taste
Add beef stock, tomato sauce and diced tomatoes. Stir well and heat through.
Add uncooked rice and simmer until rice is done - it will only take a few minutes.
Enjoy!