I went to a potluck last weekend.  I brought Margaritas....someone else brought potato salad.
Well, that's what they called it.  It was mashed potato salad, with lots of vinegar...it was awful.
I'm from Minnesota - our potato salad is made with salad dressing (Miracle Whip) and mustard, it has celery and eggs and potatoes and onion.  It is not warm (unless you're German, I'm Norwegian - we don't do that,) it isn't made with mashed potatoes (shudder) and it's on every church or community potluck table you will find across the state.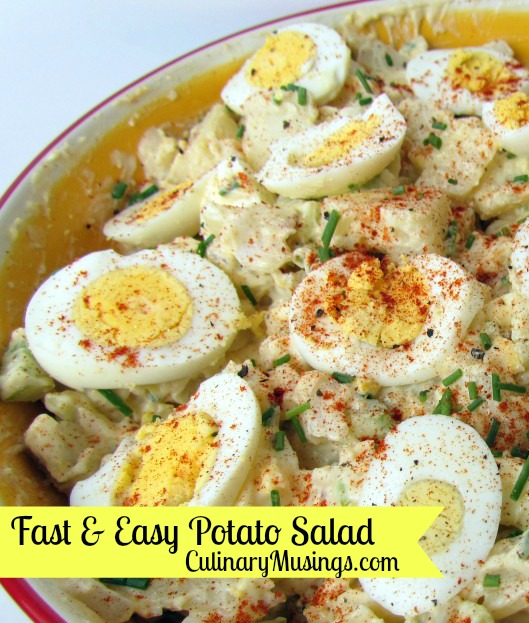 I realized that not many people grow up with potato salad in their summertime diet.  I did.  My mom makes wonderful potato salad, and I'm lucky enough to have learned from her.  Hers tastes better, probably because she made it - doesn't all food made by mom taste better?
I'm sharing my easy recipe here, this takes about 20 minutes max to put together, you should chill for a bit in the fridge if you can.

Fast & Easy Potato Salad
You can absolutely double this recipe or even triple if you're feeding a crowd. Use potatoes you peel and boil if you have time, this is my shortcut recipe!
Ingredients
2 packages small potatoes - the kind that are packaged for steaming in the microwave - find them in the produce section
4 eggs
3 green onions, diced/sliced
1 large stalk celery, diced
1 C. Miracle Whip
3 Tbsp Mustard
½ tsp Salt
¼ tsp Pepper
½ Tsp Paprika
½ Tsp minced parsley or dill (optional)
Instructions
Place the eggs in a small pan of cold water, cover and put on med/lo heat on the stove
Place the potatoes in the microwave on full power for about 8 minutes - read your package directions because size of spud matters here
While eggs and potatoes are cooking, dice onions & celery and put in a large bowl
Once eggs come to a boil, reduce to a simmer and set a timer for 9 minutes
When 9 minutes is up, dump off hot water, run under cold water for 2 minutes, fill up the pan, and add 2 C of ice cubes. Let sit
When potatoes are done, dump into a colander and rinse with cold water. You can put these in an icewater bath with the eggs if you like.
While eggs and potatoes cool, mix up dressing by combining Miracle Whip, Mustard, Salt & Pepper in a small bowl.
Dice cooled potatoes and add to the celery and onions
Peel your eggs, save one out that looks the best and dice the rest up and add to your potatoes
Pour the dressing over the top and stir gently, but well
Put into your serving bowl and top with your extra egg, sliced
Sprinkle lightly with paprika
Top with herbs if you like, this just adds some interest to the top of the salad
Enjoy