How to make easy potato salad
Aunt Carly's Delicious and Easy Potato Salad Recipe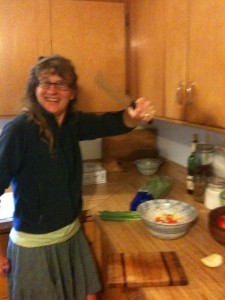 If potato salad is one of those dishes you love to eat but are intimidated to make, here is the recipe for you.
Its a more healthy version of traditional potato salad. If you're tired of white potato salad, you'll love the color this variation adds to your table.
We recently visited Aunt Carly and she shared her favorite recipe for potato salad. Its packed with vegetables and fruit for extra healthiness. I guarantee you will love it. We did and we didn't feel guilty eating it because it was so healthy for you.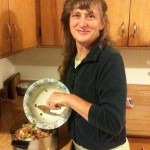 Here's a list of ingredients. Some are optional.
10-12 red potatoes
2 carrots diced
3 stalks of celery
8 diced scallions
1/2 diced apple
1/4 cup raisins (optional)
1/4 cup relish
2 tablespoons sunflower seeds
salt (consider trying Whole Foods Mediterranean blend salt)
pepper
garlic
dill
basil (optional)
A approximately 1to 1 and 1/2 cups of mayonnaise, sour cream, and salad dressing depending on preference.
Put unpeeled potatoes into water and boil until soft. You should be able to pierce the potato with a fork easily. Let the potatoes cool.
Sometimes Aunt Carly puts the cooked potatoes into the freezer to cool faster. You want the potatoes cool enough to handle with your fingers. If you are in a hurry you can place the potatoes in a collander and run cool water on them.,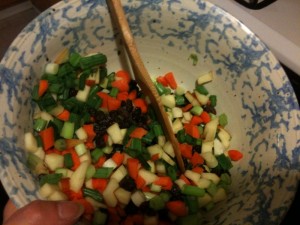 While you are cooking the potatoes, cut carrots, celety, scallions, raisins, apple and other ingredients. Put in a bowl.
After cooling, cut the potatoes into chunks. Add to bowl with the diced vegetables. Mix. Add mayonaise and sour cream, salt, pepper, garlic, dill, and basil. Mix throughly.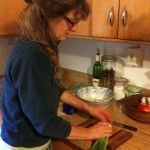 Enjoy as a side dish. You will get rave reviews from your health minded friends. This is a healthy version of traditional potato salad. This recipe serves about 6 people.
For extra goodness you can use all organic ingredients. Carly introduced me to her favorite salt blend - the mediterraean blend from whole foods. It has sea salt, spices, garlic, lavendar, canola oil, rosemary,oil and basil oil in it already.