I LOVE caesar salad.  It's one of my favorites, and generally my choice if it is a choice when eating out.  I also love to have Caesar Salad at home, but some bottled dressings are just a little too heavy on the Anchovy.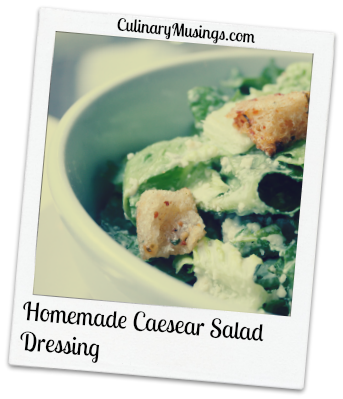 I make my own dressing without anchovies and it's perfect.  I make this up every few days, it's not something that can keep forever because of the mayo - but it's so tasty you'll wonder why you never made your own before this!

Easy Caesar Salad No Anchovies No Eggs Recipe
This recipe gets it's "egg" component from the Mayonnaise. Mayo is a good substitute because it's pasteurized and shelf stable. You should refrigerate this dressing - and only keep it a few days.
Ingredients
2 garlic cloves
¾ cup mayonnaise
1tsp dijon mustard
½ ts. dry mustard (I use Colemans)
2½ - 3 tbs red wine vinegar, to your taste
2 tsp worcestershire sauce
½ cup freshly grated parmesan cheese
½ tsp salt
¼ tsp pepper
¼ cup light olive oil
Instructions
In a blender combine all of the ingredients but the olive oil.
Blend well - you may need to add a tsp or two of water to help with the blending
with your blender on low, slowly drizzle in the olive oil through the hole in the lid until the whole recipe comes together and is imulsified