In Yiddish, a "tzimmes" is a long and involved procedure. To "make a tzimmes" means to make something unnecessarily complicated: "We were just going to serve coffee and cake, but she came in with a long list of recipes and made a big tzimmes out of the brunch." Fortunately, there's nothing complicated about this recipe. It's as easy as it is delicious.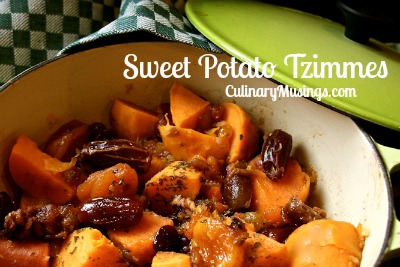 This is adapted from a traditional recipe from the Persistent Vegetarian State Web site.

Sweet Potato Tsimmes - Passover Recipe
Ingredients
8 cups sweet potatoes, boiled, peeled, and cut into large chunks.
2 cups carrots, peeled and cut into chunks
½ cup raisins
1 cup orange juice
½ cup orange blossom honey
1 teaspoon cinnamon OR baking spices
3 tablespoons margarine, cut into small pats.
Instructions
Preheat oven to 350 degrees.
Spray a large baking dish (13x9) with cooking spray and add potatoes, carrots, and raisins.
Stir orange juice, honey, and cinnamon in small bowl. Pour over veggies.
Dot mixture with small pats of margarine.
Bake for 20-30 minutes, uncovered. Stir well, and bake for another 20 minutes.