I first ran across this recipe 10 years ago in a magazine that isnt published anymore.  As written I thought they were kind of bland, but a great idea.  So I souped them up a bit with some extra flavors.  You can adjust to your taste with your favorite hot sauce and chili seasoning, but the base is pretty simple.  I also like these because they're heavy on beans and light on meat, making them pretty economical to put together.  These are also great over a cookfire if you're camping.
This recipe is for stovetop cooking, but you can combine the browned hamburger and other ingredients in a crock pot and cook it on low for 4 hours or so to get the same effect.  I've doubled and even quadrupled the recipe for big get togethers and almost never have leftovers.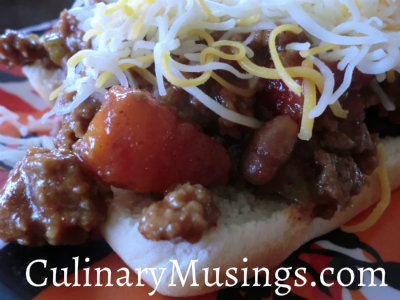 The bread you choose is almost as important as the mix itself, but honestly plain old hamburger buns are fabulous.  If we're getting "fancy" I'll toast some kaiser rolls or Bollito rolls to make the outside crispy and use those.

Recipe type:
Entree, Main
Prep time:
Cook time:
Total time:
Ingredients
½ lb ground beef
¼ cup diced onion
¼ cup diced sweet green pepper
1 (15 ounce) can pork and beans in tomato sauce (I use Bush's)
1 (14½ ounce) can diced tomatoes with juice
2 tablespoons catsup
1½-3 teaspoons chili powder (to taste)
¼ teaspoon yellow mustard
3 -5 dashes hot pepper sauce (leave out if preparing for kids)
1 Cup shredded sharp cheddar cheese
8 -10 hamburger buns or 8 -10 kaiser rolls
Instructions
In a large skillet, cook beef, onion, and sweet peppers until meat is brown.
Drain off Fat.
Stir in beans, tomatoes, katsup, chili powder, mustard and pepper sauce.
Bring to boiling and reduce heat Summer uncovered for 20-25 minutes or until thickened.
To serve, spoon onto buns or rolls and top with sharp cheddar