Five questions to ask yourself before heading to the kitchen
It takes time and effort to find the perfect recipe and decorate a special container, so make sure the recipient will actually appreciate – and eat – your food gift. You want your gift to be savored and appreciated, not tossed unopened into the trash can. A little thought and advance planning will prevent that from happening.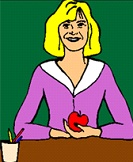 Who is the recipient?
Give homemade food gifts to family and close friends – people who have eaten at your house and enjoyed your food. More distant friends and aquaintances may stay away from homemade gifts because of concerns about cleanliness and food safety.
Schoolteachers, in particular, receive loads of homemade gifts every year. Many say they throw everything away uneaten and unopened! My mother was a teacher and she never let us eat the things kids gave her, noting: "I watched one kid drop an open jelly sandwich face down on the sidewalk, pick it up, and eat it like nothing had happened! Yuck!" She always wondered if the kid learned that by example in his own kitchen.

What are you giving?
Other people may trust your techniques, but not your ingredients. People with food allergies or special dietary requirements just have to be careful. It's thoughtless, even rude, to give a tin full of sugary marshmallow fudge to a diabetic. Your vegetarian friend won't enjoy your homemade venison mincemeat – but his dog probably will. If your boss really hates to cook, she won't appreciate the soup mix in a jar that you so carefully assembled.
Here again, if you know someone very well, then you already know what kinds of food gifts are appropriate. Since they know and trust you, they're likely to eat and enjoy it!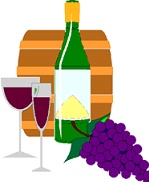 Where did it come from?
People still have to eat, even if they don't want something directly from your kitchen. If you can't tempt them with homemade caramel corn, try assembling a nice gift basket with prepared commercial foods. Many businesses sell ready-made baskets, but you'll save a lot of money by making your won.
Thrift stores are full of low-cost baskets, and a quick trip to the grocery or specialty food store can offer a mouthwatering assortment of options. A theme makes the job even easier. For instance, an "Italian night" basket could have a bottle of wine, pasta sauce, noodles, and a jar of pesto.
Last year, one of my Sunday school students gave me a "movie night" basket that was great. It was a large popcorn bowl filled with different flavors of microwave popcorn, three movie-theater sized chocolate bars, and several movie rental coupons.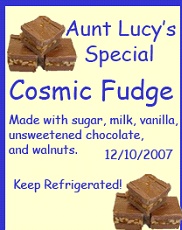 How should they use it?
Packaging counts. Attractively decorated containers receive more attention, and properly sealed foods taste better. An old friend used to give us cookies that we never ate. They were probably delicious right out of the oven, but by the time she delivered them on a paper plate loosely wrapped in plastic wrap, they were too stale to enjoy.
When you're packaging the gift, take the time to give some information and instructions about the food. The University of Minnesota Extension suggests listing the following:
• Date you made the products
• List of ingredients (useful for people who have food allergies)
• Storage and handling instructions
• Ideas on using the gift
Why is it special?
Well, of course, it's special because you made it! But what else sets your recipe or presentation apart from what is available in stores? Maybe it's a recipe that Martha Washington made for George, or perhaps it's a collection of organic herbs from your garden.
Design a little card that tells the story and gives the recipe, if there is one. Maybe include a few serving suggestions as well. That adds the truly personal touch that we're looking for when we give homemade gifts in the first place.
Here are my three favorite food gifts, along with recipes and packaging hints.
Homemade Caramel Corn
My mother used to make this all the time when I was in junior high school and I'd sneak the bag into band practice in my cornet case. My best friend and I would stuff ourselves between songs. Yes, the instruments got pretty sticky!
2 sticks margarine
2 cups light brown sugar
½ cup Karo Pancake syrup (or corn syrup)
1 t salt
1 t vanilla
½ t baking soda
6 quarts popped popcorn
1. Pop popcorn and set aside in a large mixing bowl.
2. Preheat oven to 250 degrees. Spray a 9x13 baking dish with non-stick cooking spray.
3. In a large, heavy-bottomed pan, bring the first 4 ingredients to a boil on High heat.
4. Reduce heat to Medium and boil approximately 5 minutes without stirring. Cook until the sugar mixture until it spins a thread (240 degrees on the thermometer).
5. Remove from heat and stir in the vanilla and baking soda.
6. Pour over popcorn and mix well. Place popcorn mixture in baking dish and bake for 1 hour, stirring every 15 minutes.
7. After the caramel corn cools, store it in an airtight container.
You can package this in a holiday tin, in a jar, or even seal it in a plastic bag and place it in a gift bag. Because popcorn is so light and this recipe keeps so well, it's a good option if you're mailing the present.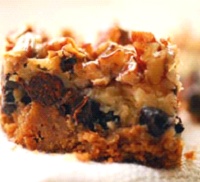 Hello Dollies
It takes a strong person to resist these sinful little cookies. These are also called "Seven Layer Bars" or "Demon Bars." Some people recommend storing the finished cookies in the refrigerator so they don't spoil, but they never last more than a day or two in our house anyway.
Special thanks to the Homesick Texan blog for giving us permission to use this terrific photo.
½ cup margarine
1 cup graham cracker crumbs
1 6oz bag semisweet chocolate morsels
1 6oz bag butterscotch morsels
1 cup pecan pieces (substitute walnuts if you prefer)
1 cup shredded, unsweetened coconut
1 14oz can sweetened, condensed milk
1. Preheat oven to 325 degrees and spray a 9x13 baking dish with non-stick cooking spray.
2. Melt margarine and pour it into the baking dish. Spread the graham cracker crumbs evenly over the melted margarine. Make sure you cover the bottom as evenly as possible.
3. Sprinkle chocolate and butterscotch morsels evenly over the crumbs.
4. Sprinkle pecan pieces over the morsels.
5. Top with shredded coconut.
6. Pour sweetened, condensed milk evenly over mixture.
7. Bake for 25 minutes.
Don't try to mail these. They taste best if eaten quickly. Not that it's a problem; you'll be lucky to keep your own family away from them long enough to give them away. Store the package in the refrigerator until you're ready to deliver it.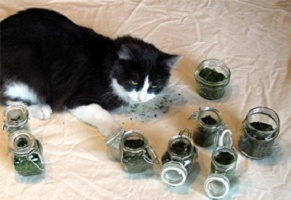 Homegrown and Home-dried Herbs
Dried herbs from the summer garden can't be beat for taste and freshness. I save small glass jars & lids all year and buy extras at a local craft store if necessary. Just make sure the jar has a good seal. Store the dried herbs in the freezer to keep them fresh and in top gift-giving condition.
Culinary friends love the taste of the fresh-dried herbs; it's much more intense than what comes from the grocery – or even from specialty shops. Their feline companions also enjoy having a fresh taste or two of catnip.
Why, your own cats would probably be thrilled to "help" you with the catnip packaging and quality control. I know I couldn't do it without Mary Ann's assistance!